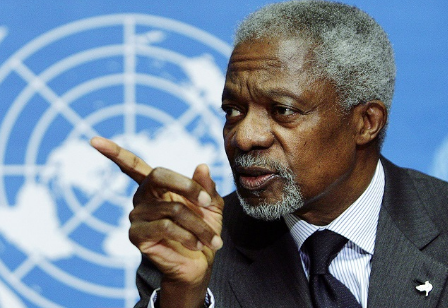 Kofi Annan
By Ikechukwu Amaechi
He had his flaws. We all do. After all, he was human like the rest of us. Even as the secretary general of the United Nations, he had his fair share of failures and even scandals, yet he was able, in the ten years he was on the saddle, to project not only himself but also the UN as the world's conscience and moral arbiter.
In every sense, he made a huge difference, outstanding in all fronts. He was a peacemaker, a saint, if you like. And the world noticed and gratefully crowned him with the global peace diadem: Nobel peace prize.
I am talking about the pride of Africa, nay humanity, Ghanaian-born Kofi Annan, who like the saint he was, and still is, flew into eternity last week after a brief illness, aged 80, with his wife and children by his side.
Africa's unique gift
Many are holding him out as Africa's unique gift to the world, an inestimable jewel. The second African, but the first sub-Saharan African to be at the helm of UN affairs, Annan became one of the most important ambassadors of the black race, probably coming second only to the venerable Nelson Mandela, former South African President.
It is a measure of Annan's greatness that an otherwise simple task of paying him tribute becomes daunting. As a two-term global chief civil servant (1997 to 2007), he was conscientious, irrepressible, brilliant and empathetic. He was a quintessential peacemaker, preaching peace to countries with nuclear arsenals that can wipe out entire nations at the push of a button. The fact that such arsenals were and still are at the disposal of megalomaniacs parading as world leaders with elephantine egos made Annan's intrepidity more pronounced.
But Annan's essence does not lie in the fact that he was a one-time UN Scribe because he was neither the first nor the only one. But he was arguably the most impactful, a force for good. A man with a deep sense of empathy and compassion, he brought those virtues to bear on his work.
The world appreciated his painstaking, conscientious and diligent efforts to revitalise the UN by ensuring that the promotion of human rights was put back at the core of its mission despite the daunting challenges placed on his path by entrenched global interests, and rewarded him with a Nobel peace prize in 2001 while he was still in office.
He is acclaimed as the first UN scribe to rise through the ranks.
In the 1980s, he served in the global body's peacekeeping mission that supervised the truce between Israel and the Arab states in the Middle East, worked as a senior manager in the UN Joint Staff Pension Fund in New York, and as Chief of Personnel at the Office of the UN High Commissioner for Refugees in Geneva.
Within the decade, he also became Director of Personnel at UN Headquarters in New York.
In the 1990s, Annan was appointed Assistant Secretary-General and the UN Controller with responsibility for the budget and fiscal management of the world body, Assistant Secretary-General in the peacekeeping department and later Under-Secretary-General and head of UN peacekeeping.
A strong vote of confidence
As Prof Kingsley Moghalu, former Deputy Governor of the Central Bank of Nigeria (CBN) and presidential aspirant, who worked under Annan at the UN noted in his tribute in April to mark the late diplomat's 80th birthday, Annan's appointment as Under-Secretary-General and head of UN peacekeeping by the then UN scribe, Egyptian-born Boutros Boutros-Ghali,  "Was historic because that important part of the UN's work had hitherto been led exclusively by officials of American and British nationality since the organisation was founded in 1945."
That was a strong vote of confidence in him but also the source of his biggest challenges because he was in charge when genocide engulfed Rwanda and Bosnia.
But the experiences strengthened, rather than diminish his resolve to promote global peace and make the world a better place committed to equal rights for all irrespective of race, sex or religion.  The ugly experiences availed him the tools with which he tried to navigate the world out of future horrors. He simply allowed the Rwanda tragedy drive his sense of mission as UN scribe.
The painful memories "influenced much of my thinking, and many of my actions, as secretary-general," he said years later.
As UN leader, he firmly trained his gaze on the goal of positively renewing the organisation's sense of purpose. He carved out for it the role of a moral compass for the new world order that emerged from the ashes of the enervating cold war.
And he did not disappoint, leaving office as, perhaps, the most consequential UN scribe.
His qualities were eclectic.  As Frederic Eckhard, his spokesman and adviser for many years noted, "Kofi had an interesting combination of traits, he was reserved and disciplined on the one hand, and on the other he could be kind of playful."
Eckhard said his boss "handled things so calmly and with such assurance. He had an enormous amount of charm and terrific political instinct."
A man imbued with the courage of his conviction, soft-spoken but strong-willed and firm, Annan stared down the United States and President George W. Bush's coalition of the willing and declared the U.S. led attack against Iraq illegal.
And the world not only noticed but rewarded him for his faithfulness with a Nobel peace prize.
Eulogised by friends and foes
It is not always that world leaders in one accord eulogise the dead.
In death, Annan has joined the pantheon of leaders like Mandela accorded that rare privilege. His is even unique because in death he is being eulogised by friends and foes, men who knew he was on the right track but disagreed with him all the same because of jaundiced national interest and claims to insipid ideological superiority.
President of his home country, the erudite Nana Akufo-Addo, fired the first salvo, ordering that the country's flags be flown at half-mast for a week in honour of "one of our greatest compatriots," who "excelled in the various undertakings of his life, leaving in his trail most pleasant memories."
The inimitable Archbishop Desmond Tutu said Annan's death was a "devastating loss" because he was an "outstanding human being who represented our continent and the world with enormous graciousness' integrity and distinction."
Great diplomat, true statesman
Tony Blair, former British Prime Minister and an adversary over the Iraq war called him "a great diplomat, a true statesman and a wonderful colleague."
"Kofi Annan was a guiding force for good," Antonio Guterres, the incumbent UN scribe, said. "In many ways, he was the UN. He rose through the ranks to lead the organisation into the new millennium with matchless dignity and determination."
Russian President Vladimir Putin harped on Annan's acclaimed leadership skills. "I sincerely admired his wisdom and courage, his ability to make informed decisions even in the most complex, critical situations."
And Iran's foreign minister Mohammad Javad Zarif described him as "a towering global leader and an unwavering champion for peace, justice and rule of law."
At 80, Annan lived long enough. But his life will not be defined by its longevity but by its unparalleled achievements.
Everything about Annan should make every black man hold his head high.  Just like Mandela, Annan by his carriage which was disarming, integrity, strong sense of duty, his surefootedness, proved that indeed, something good can come out of sub-Saharan Africa when it comes to leadership.