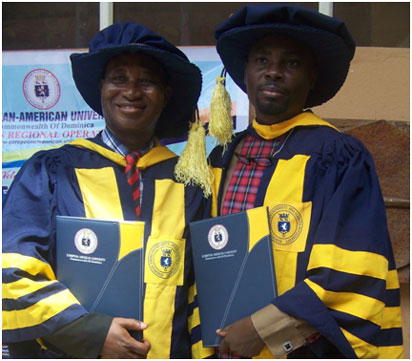 From left:: Dr.Victor Fodeke and Dr.Olawale Akinwumi during their conferment with EAU Awards in Abuja.
Executive Vice Chairman, Tellco Europe Nigeria, Dr. Olawale Akinwumi, its Managing Director and Dr. Victor Fodeke have been conferred with prestigious honorary doctorate degree awards by European American University in the Common Wealth of Dominican.
The award took place during its 9th Convocation for the conferment of degrees, diplomas and honorary doctorate degrees award at the Centre for Art and Culture, Abuja.
The duo in the solar energy sector were recommended and nominated for this prestigious honors.
A citation on the recipients describes them as a proven African Icons with vast experience and technocrats who have promoted integrity and visionary leadership in their contribution to solar energy management and power development in nation building.
The excerpts read in part: ''As part of our programme to encourage excellence and acknowledge the contribution of respected and distinguished men and women worldwide, European American University in Common Wealth of Dominican has proposed through its African Operations Office to confer honorary doctorate degree to those who have  made outstanding contribution in Academics, Polities, Business, Administration, Religion and Humanitarian Service in the advancement of humanity in general.
''In this regards, two seasoned experts in solar energy sector,  Dr. Olawale Akinwumi and Dr. Victor Fodeke  have been honored with the honorary doctorate degree in Solar Energy Management and Power Development (Honors Causa) of the University.''
Personalities present at the epoch making event included captains of industries, academia, political leaders, religious leaders, traditional leaders.  Meanwhile: Professor Sunday  Menyaga  Ichado    of the Western Othordox University spoke on the theme, "Education as panacea for national development.