By Ben Agande
Members of the Islamic Movement of Nigeria, IMN, the umbrella body of the Shi'ite Islamic sect and other urban gangs operating in Kaduna State risk seven years jail term, according to a new order signed by Governor Mallam Nasir el-Rufai.
Briefing newsmen yesterday in Kaduna, Solicitor-General, Chris Umar, said the Unlawful Societies (Declaration) Order, 2018, was aimed at promoting public safety and to uphold law and order in the state.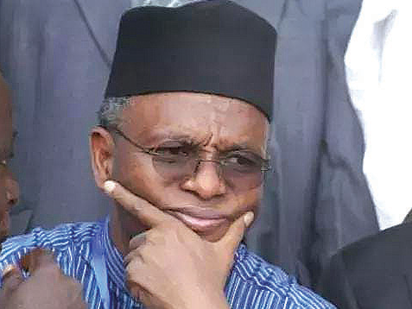 Kaduna State government had banned IMN, Sara-suka, Yanshara and other criminal gangs operating in the state on October 6, 2016.
The Solicitor General, flanked by the state Director of Public Prosecution, Mr. Dari Bayero, said the measures being taken by the state government was aimed at curbing the menace of urban gangs.
According to him, "the most recent is the decision by the Kaduna State Executive Council to approve the Unlawful Societies (Declaration) Order, 2018.
"Conviction for an offence under this order attracts a minimum sentence of seven years imprisonment. This Order, which has been gazetted, became effective on June 27.
"It declares as unlawful societies and urban gangs that have been unleashing mayhem on innocent persons. The violent, criminal actions of these gangs pose serious threats to peaceful and harmonious coexistence in our communities, and threaten the tranquility, security and development of the state.
"Sara-suka, Yanshara and others have acquired notoriety for involvement in criminal activities, including petty theft, robbery, rape and murder."