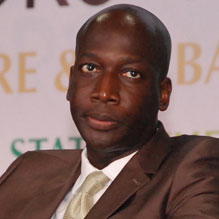 MD, Unilever Nigeria, Mr. Yaw Nsarkoh
Executive Vice President, Unilever Ghana and Nigeria, and keynote speaker at the 2nd ACT Foundation Breakfast Dialogue, Yaw Nsarkoh reemphasized the need for genuine contribution to sustainable development from every sector.
Speaking on the theme "Fostering Ownership: Driving Sustainable Impact across Communities in Africa", Nsarkoh sued for a multisector approach towards solving problems associated with development on the African continent. He equally reiterated the importance of the public sector and government in the attainment of a developed society.
"No people in the history of development have achieved sustainable development without the presence of a competent state, hence we must be concerned about institutional capacity", Nsarkoh advised.
Stressing on the criticality of the role government plays in development across Africa, and globally, Nsarkoh advocated for an increased drive for involvement and participation in development from the public sector as they possess the key to unlocking accelerated growth.
"As far as societal development is concerned, the apex role is for the state. The state makes the market sufficient; they make laws, they are responsible for building a meritocratic and enabling environment, as well as ensure a level playing field for all", he asserted.
However, Nsarkoh resolved that for society to thrive, other sectors have a very significant role to play as businesses and individuals must contribute adequately in a bid to give back to society other Africa faces the risk of severe underdevelopment.
"People who have no stake in society are the ones who destroy it. Africa has produced a system with too many people who have nothing to lose, and one day we risk reaping the whirlwind of that" he said. Nsarkoh added that technology must be leveraged upon to serve humanity as it can only be useful in that regard.
Nsarkoh further encouraged the adoption of a sense of concern and contribution to development from every sector, reemphasizing the need to take responsibility as a means to fostering ownership within the African social sector.
The 2018 ACT Foundation Breakfast Dialogue played host to a panel of discussants primarily experts and leaders within the public, private and social sectors. Comprising the panel were the Managing Director/CEO, Aliko Dangote Foundation, Zouera Youssouffou; Country Director, Google Nigeria, Juliet Ehimuan-Chiazor; CEO, Slum2School, Otto Orondaam; Executive Director, Junior Achievement Nigeria, Simi Nwogugu and Director.
Strategy, Funding and Stakeholder Management, Lagos State Employment Trust Fund, Abosede Alimi. The panelists addressed issues bordering sustainability, technology, funding, development and partnership within the African social sector.
Speaking at the event, the Chairman, Board of Directors, Aspire Coronation Trust (ACT) Foundation, Tunde Folawiyo called for concerted efforts towards advancing the social sector, pointing out collaboration and ownership as key ingredients for achieving development success.
"There is a need to chart a new course geared towards developing new strategies for that will ensure firm ownership of our innovative pathways to development. We believe that this will hasten the pace at which growth and development can be achieved on the African continent".
The CEO, ACT Foundation, Osayi Alile remarked on the immense significance of the Breakfast Dialogue to African development, reiterating that multisector involvement was critical to the growth of the African development sector.
"When everybody is involved, the task of development becomes less burdensome. In today's world particularly, contribution at all levels is required to adequately sustain strategies geared towards addressing social deficits, thus multisector participation is key to accelerating growth in Africa", Ms. Alile added.