By Rotimi Agbana
Since Vanguard Ripples  reported that trouble may  be looming for Chioma Rowland, Davido's girlfriend, as her family is not pleased with her dumping school for Davido, mixed reactions have continued to greet the report that went viral on social media.
But the love-struck economics undergraduate of Babcock University seems unruffled with the news for obvious reasons, Davido's assurance.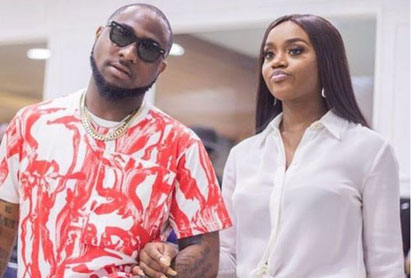 Refusing to react, Davido has since kept mum on the matter. According to him, he is quietly observing things. "I just dey observe", Davido wrote on his twitter page, to which Chioma responded, "Let them talk bae, I'm looking at them and laughing."
There are speculations that the 'Assurance' crooner may have decided not to get involved in Chioma's family issues because he is yet to become a bonafide member of the family.
Meanwhile, critics have continued to condemn Chioma for dumping her education for a celebrated love affair with Davido.
"Yoruba demon has charmed Chioma. Igbo girls can die for Yoruba boys", a social media user simply identified as Outraged wrote.
Grand Maze said, "Let she not abandon her education. If she desires these things so much, she can go ahead but still complete her education while married. I will not advise her to throw away her Davido opportunity neither relegate her education."
John Okolie described her with unprintable words; "If this is true she must be the most stupid girl ever to bear an Igbo name."
Patriot wrote, "Wow! This life!! How can someone abandon education, your future, for fame and money. Can you predict what tomorrow will be? Even Davido's mum was a lecturer at Babcock University before she passed on. His father is a geologist with PhD, David himself is a graduate of music from Babcock University.
Now Chioma wants to be without education because of flashy things that are temporary. What is painful is that the Igbos are very quick at blaming others especially the Yorubas for whatever happens to them. Soon they will begin to say it is because their daughter married Yoruba that's why she's having problem (that's what they said with P-Square's wife and Tonto Dike), they won't remember now that greed is making their daughter abandon school because she has seen money and cars. God help her to listen to her parent's advice."
"Some people have simple problems in this life. Her problem is laziness to read", Lade wrote.