The out-going governor of Ekiti state, Ayodele Fayose, has said that the Peoples Democratic Party, PDP, candidate, Olusola Eleka would be heading to court to reclaim what he described as the "stolen mandate" after the All Progressives Congress, APC, party candidate, Dr. Kayode Fayemi emerged winner of the governorship election held in the state last Saturday.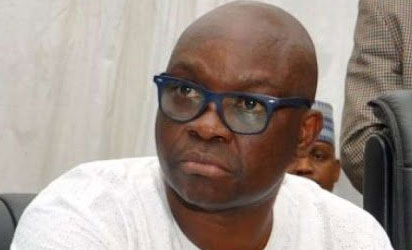 Fayemi defeated the Peoples Democratic Party, PDP candidate, Professor Olusola Eleka in the election that many described as riddled with vote-buying.
However, Fayose has vowed that "we" would challenge Fayemi's victory at the election tribunal after describing Fayemi's victory as "pyrrhic."
In a statement, Fayose also accused President Muhammadu Buhari of using the security agencies to snatch away the peoples mandate in Ekiti.
The statement reads thus:
"On this Ekiti election, President Buhari demonstrated truly that he is not a democrat, but a dictator and fascist per excellence.
It is only Buhari that will pride himself with the security shooting sporadically at polling centres, scaring people to pave the way for the APC thugs to snatch ballot boxes.
The President should bury his head in shame for using the police, army, Nigeria Security and Civil Defence Corps and INEC to snatch the mandate given to Olusola and deliver it to Fayemi "whom Ekiti people rejected."
What Buhari won as referendum from Ekiti people, Nigerians, and international community is shame, big shame.
If APC truly won, why was it that there was no jubilation in Ekiti ?
That victory of Kayode Fayemi is pyrrhic, we will reclaim the stolen mandate in the court by the power of God.
As for me, I am Peter Ayodele Fayose , I hold with my head high. I can never be suppressed. I don't lose battles and I will not lose this. By the power of God,  I will laugh last.
The President should note what the Bible says which applies to him: "He that wears the armour should not boast as he that removes it."
On Garba Shehu, that fellow is not to be accorded any attention. Being a fair weather friend, he would soon desert his current pay masters.
Garba Shehu was in the Presidency, courtesy of Atiku Abubakar for eight years and came back for this current dispensation, still courtesy Abubakar. Now, he has abandoned the person who brought him to the limelight," he said.