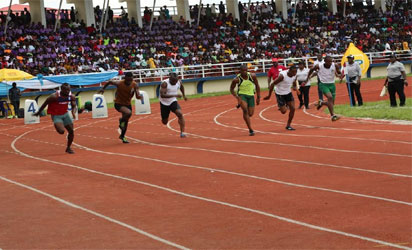 Nigerian track and field athletes are set to embark on a peaceful protest as the Athletics Federation of Nigeria selection trial for the African Championships begin today in Abuja.
Reports from Abuja indicated that the athletes among a list of grievances bothering on their welfare are calling for the removal of the technical director of the AFN, failing which they might consider boycotting the trials for the African Championships billed for Asaba, Delta State August 1-5. "We have written to the police to make our intentions known. We are not going to compete until our major demand, which is the removal of the technical director, Mr. Sunday Adeleye is met," said a representative of the athletes yesterday.
"We have asked for police protection to ensure that thugs are not brought in like they did in Ozoro.
"It is about time we put our house in order. We cannot continue to pretend that all is well, when our sport is dying gradually," he added.
He stated that the athletes are not happy with the manner technical matters which affected them most have been handled. One of such was the entry standard set for the trials, which he claimed have been skewed to favour some group of athletes belong to coaches who the technical director rely on for advise.