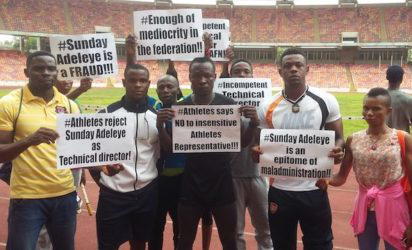 The protesting athletes at the National Stadium in Abuja: AFN cancels the Athletics Championship thereafter
The protesting athletes at the National Stadium in Abuja: AFN cancels the Athletics Championship thereafter
The Athletics Federation of Nigeria (AFN) on Sunday cancelled the All Nigeria Athletics Championship holding in Abuja, following protests by participating athletes over poor welfare.
Sunday Adeleye, AFN Technical Director, said that the decision followed an emergency meeting of the board of the AFN regarding the protest.
"The decision we have reached is that the Championships is cancelled and we further decided that we are going to select athletes who will represent Nigeria at the All African Senior Athletics Championships," he said.
The All Nigeria Athletics Championships, which kicked-off at the Abuja National Stadium of Saturday, was supposed to be the National Trials for athletes expected to fly Nigeria's flag at the All African Senior Athletics Championships.
Asaba, Delta State, is billed to host the event in August.
Athletes had earlier on Sunday barricaded the tracks at the Abuja National Stadium and demanded talks with the AFN board to address poor welfare condition and failure to redeem outstanding allowances.
Some of the athletes decried the harsh welfare conditions with which they compete at any event organised by the AFN.
They also criticised the athletes' representative on the AFN board for not representing their interests adequately on the board.
All efforts to return the athletes to action proved abortive, as they held a meeting and decided that they would not compete except their grievances were looked into.
The AFN board was forced to hold an emergency meeting of members present.
The outcome was the decision to cancel the National Trials.
Adeleye, who had hoped the issue would be resolved, later said that some of the protesting athletes misinterpreted what constituted logistical provisions for the event.
"We call it All Nigeria Championships but we cannot take care of over 600 athletes by ourselves as a federation", said Adeleye, who is the athletes' representative of the board of AFN, said.
"How do we put over 600 athletes in hotels? It is called trials, where you come and try to be selected. If you are selected, then we will adequately take care of you," he said
The three-day event started on Saturday and was supposed to end on Monday.
NAN