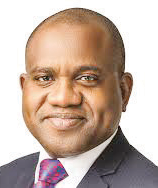 UNITED Capital Plc, an  Investment Banking Group has appointed Peter Ashade its new Group CEO following the retirement of  former Group CEO, Oluwatoyin Sanni effective June 30, 2018.
Ashade until this appointment was the Chief Executive Officer of Africa Prudential Plc. His leadership style is allied to the delivery of superior shareholder value, service excellence and consistent market leadership.
He is an astute investment banker with over three decades of cognate experience in Nigeria's capital market. Under his  leadership, the company acquired UAC Registrar Limited and seamlesslyintegrated it with Africa Prudential Registrars, APR, leading the transformation of APR into a leading company on the Nigerian Stock Exchange.
He championed disruptive innovation in the registrars' business in Nigeria and across Africa, pioneering many e-products and successfully implemented a major diversification strategy for the business. He brings a diverse, innovative perspective, and leadership capabilities that further strengthen United Capital Plc's capital market leadership in Africa. Ashade resumes as Group CEO, United Capital Plc, effective   July   01,   2018.