World Cup 2018 : What they said on the opening day of the World Cup in Russia on Thursday:
"Love for football unites the entire world in one team, regardless of people's language or ideology."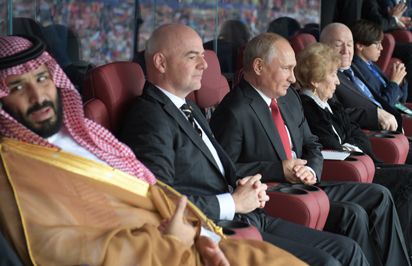 Russian President Vladimir Putin, speaking at the opening ceremony.
"It is just the beginning, not the end."
Russian coach Stanislav Cherchesov downplays expectations after the 5-0 thumping of Saudi Arabia.
"I am how I am. Anyone who doubts me should look at my CV. I would like to finish with a smile because it seems as if we are in a funeral parlour and yet tomorrow we begin our World Cup."
Sergio Ramos after a Spain press conference dominated by talk of sacked coach Julen Lopetegui ended with a question about his clash with Mohamed Salah in the Champions League final.
"We are here to fight with the favourites. We expect the football gods to take our side."
Iran coach Carlos Queiroz hopes for the best against Morocco.
"Everybody knows what Harry Kane is all about, he's a goalscorer, a great professional. But if you look all around our team we've got winners. We've got goals all over the pitch, it's not just Harry."
Kieran Trippier says England are a potent force.
"It helps, because then we don't feel alone."
Burly Germany defender Jerome Boateng shows his sensitive side when one of the match mascots asked if it helped the players to walk on with them.
"It stops you feeling nervous, so better give him two."
Germany teammate Toni Kroos teases Boateng about the mascots. World Cup 2018