By Donu Kogbara
LAST week, I lamented the criminality that the political class, members of the ruling All Progressives Congress, APC, included, is inflicting on Nigerians; and I expressed disappointment about Buhari's failure to impose discipline on dangerous cowboys who are destroying our country. And the question I keep asking myself is this: What's the point of having a military man at the helm if crooks and killers are not afraid of him?!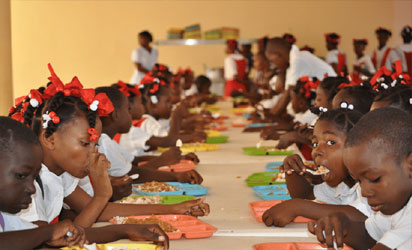 Anyway, it would appear that I was naïve to have high expectations because many friends, acquaintances and Vanguard readers have told me that they knew all along that Buhari would disappoint; and I thought I should share some thought-provoking emails that I've recently received:
From Pere-ebi Tiemo ([email protected])>
Dear Ms. Kogbara, it's shocking to know you had high hopes for Buhari. Are you that clumsy?  Citizens get the leaders they deserve.
Visionary leaders
Right now, we have subpar leaders because we settle for less. We have the same dogs ruling us every season; all they do is change their collars. On the flip side, is Nigeria's democracy genuine enough? Do the people actually pick leaders or are leaders forced upon the people?
It seems every four years Nigerians have to choose the lesser of two evils and if we get it wrong we get the full-blown devil as a leader. Nigeria lacks talented, visionary leaders who are willing to make sacrifices. The breakdown in law and order, pockets of civil unrest nationwide and terrorist attacks are byproducts of poor governance. And Nigerians accept it.
We are jaded to all our daily horrors… and, as you said in your column, we cannot pray our way out of our problems even if we have a pastor for a vice president…Nigerians need to divert their time, monies, and energies from mega churches into demanding the best from their leaders at all levels.
Excerpts from an Open Letter to Buhari, from Ephraim Adiele, a Media and Digital Marketing Specialist. ([email protected]; contactable on @baba_random on all social media platforms):
Dear Sir, I don't have anything personal against you. I even like you, but I feel that you have no business being President because I've done proper ground research and realised you have nothing good to offer in terms of leadership skills. You were not an exemplary leader during your first stay as Head of State – You even overthrew a democratically elected government. And because you are not exactly a businessman, I did not expect you to revolutionise the economy.
I remember that fateful day – December 24, 2014 – when I was invited to Oriental Hotel, Lagos, as part of a number of young leaders of thought to come and have audience with your then-vice presidential aspirant, Yemi Osinbajo.
On that day, we were given the APC manifesto, which I went through and laughed heartily at because I realised that you and your party members really take Nigerians for fools (well, aren't we?) by making promises that can never be fulfilled even in the next 20 years except a miraculous revolution occurs.
After I was handed the manifesto, I went through it and underlined several of those phantom promises which I knew will never be fulfilled. I will just list them here and probably just make a few additions later.
The APC promised the following:
"Within the first year of your administration, employ 740,000 (20,000 per state + FCT) young graduates in immediate employment and empowerment scheme." – This promise was never fulfilled and this is already the third year and no signs of this ever happening.
"After NYSC, we will pay graduates stipends for one year under a vocational scheme where they build entrepreneurial and work-readiness capacity." – NYSC alumni… how market?
"Create an additional middle class of at least four million new homeowners" – Please when and where is the next landlord meeting holding. I have to attend.
"Provide free meals in school to drastically reduce the number of out-of-school children. Osun State provides free lunches and got its enrolment to 80 per cent". I'm stunned that APC used Governor Rauf Aregbesola as an example because the alleged enrolment figure is suspect, as is claims that the free food programme is successful!
Annual budget for education
"Targeting up to 20 per cent of our annual budget for education." – By my last check, only seven per cent of the 2018 budget was allocated for education.
"Ban medical trips for government officials" – Yes, you read right! This same Buhari who has embarked on a number of foreign medical trips since 2015 promised to ban medical trips abroad for government officials.
"Tuition reimbursement for health workers willing to relocate to rural areas" – I know many of my friends in the medical field who would dive at this offer if ever it is made, but what do I know?. "Buhari has fulfilled his campaign promises".
"In different phases over four years, APC will make monthly direct cash transfer of N5,000 to the 25 million poorest citizens, if they immunize their children and enroll them in school". – Dear Mr President, I strongly believe I am among the 25 million poorest Nigerians and my children are immunized and in school, where can I join the queue to collect my N5k?
"Generate, transmit and distribute electricity on a 24 hour basis … by 2019" – I will borrow the words of Mr President himself when he was talking about his friend, Olusegun Obasanjo: "Where is the power?"
"Will guarantee the independence of EFCC and ICPC" – The same EFCC whose chairman was spotted wearing a Buhari re-election badge during a recent interview with Channels TV? Issokay!!!
In summary, a good look at the APC manifesto shows that the Presidency has failed as regards fulfillment of its promises to Nigerians.
Asides the aforementioned, it is pertinent to note the following anomalies that have become the order of the day since the President took oath of office.
Incessant killing of innocent villagers by herdsmen; people are being killed and nothing is being done about it! Benue, Taraba, Plateau…name it!
Just before the election, I used to have discussions with my friends and they were all of the opinion that you were the saviour Nigeria badly needed. I used to laugh and tell them you will do exactly what you have been doing and are still doing.
Responses to: [email protected] or to 0802 747 6458 OR 0811 675 9752 (texts only). PLEASE KINDLY NOTE THAT UNLESS YOU REQUEST ANONYMITY, YOUR COMMENTS MAY BE PUBLISHED, WITH YOUR NAMES AND CONTACT DETAILS ATTACHED.