Before the advent of the missionaries in Ekiti, we were told stories of the mythical goddess of Ikogosi where hot and cold water ooze out from the same source and at the same time. The natives worshipped the presumed goddess of Ikogosi warm spring. Pregnant women flocked Ikogosi where they applied the mysterious water to cure pregnancy problems. The warm water was used to cure guinea worms, a prevalent disease at that time. It was also used to cure eye problems, sores, body ache, stomach pain and different skin diseases.
When the Baptist Missionaries from Europe came to Ekiti some 100 years ago, they constructed two swimming pools one for warm water and the other for cold water. Ikogosi became instant tourist attraction and holiday resort mostly for white men.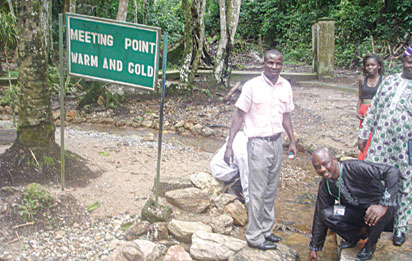 Enormous potentials of Ikogosi
One of the first Nigerians to appreciate the enormous potentials of Ikogosi warm springs was the famous billionaire at that time, Chief E. A. Ashamu. In 1986, Chief Ashamu addressed a letter to Nigerian Tourist Board for permission to develop Ikogosi Warm Springs into a tourist centre. In my capacity as his solicitor, we also approached the Government of Ondo State. As a follow up to our discussion. We travelled to Belgium where we saw what government did to make the Spa an international tourist centre. We later went to Sidel of France and discussed joint venture agreement on Ikogosi Spring Water project.
The company planned to build an helipad, establish therapeutic treatment centre, manufacture soft drink of all types and manufacture saline and drip water and battery water. We also planned to establish a mini zoo, hot and cold water swimming pools, modern mart, kiddies wonderland, modern motorway and electricity.
While working on the actualisation of Chief Ashamu's vision, the military government in Ondo State attempted to hijack the company from Chief Ashamu. This led to a series of court cases which I filed against Ondo State Government (7 in all) from High Court, Akure to Court of Appeal in Benin. Before the conclusion of the cases, Ekiti State was created and the Ikogosi natural endowments were saved for Ekiti State. Thanks to the cases instituted by Chief Ashamu.
In response to persistent agitations for the creation of more states in Nigeria, General Abacha set up Mbanefo Panel on the creation of new states. I presented and defended the memorandum for the creation of the State before Mbanefo Panel in Akure. I recalled with nostalgia when the Panel asked me whether Ekiti as a State would be viable. My answer was in the affirmative. I hinged my submission on the fact that Ekiti is endowed with highly educated and dynamic people, tropical climate, fertile land and of course Ikogosi Warm Springs. I submitted that if properly managed, the income from Ikogosi Warm Spring as a tourist centre and relevant industries would earn the country millions of dollars annually.
Unfortunately, when Ekiti State was created, the Ikogosi warm water project started on a wrong footing. In countries like Belgium which are blessed with the rare gift of warm spring, people are made to understand the uniqueness of warm spring water before going to market. A bottle of warm spring water costs more than a bottle of ordinary water. However, before the Ikogosi warm water was released for sale, no effort was made to make the people appreciate the uniqueness of the bottled warm water.
Worse still, the Ikogosi Warm Springs Water company was made a subsidiary of Swan water Nigeria in the North which manufactures and bottles ordinary water.
Consequently, right from the beginning, Ikogosi warm springs water lost its special status which it could have enjoyed over and above all the other bottled waters in the country and beyond. For instance, the warm water from Spa of Belgium cannot be found on the shelve. In England and other countries, Spa water is only available on order. The demand for it is so much that the water is sent by badge to America and by air to Saudi Arabia.
In addition to other destabilizing factors, it was a matter of time that Ikogosi warm springs water company would fold up. Indeed, by 2014, the company had to close down production due to poor returns on the sale of the Ikogosi bottled water. To make it worse for the bottling company, all the access roads to Ikogosi are so bad that most of the haulage vehicles carrying the heavy finished products broke down. The factory was disconnected from public power supply since 2014 due to outstanding debt of N37million. The State Government and other shareholders including my humble self have not been paid any dividend on our shares. None of the shareholders has been paid any dividend.
Application to wind up the company
Faced with all these seemingly insurmountable problems, the company had no alternative but to commence court action to liquidate the company. In an advertisement published in the Punch of June 22, 2018, the liquidated invited interested persons to bid for the purchase of the assets of the company. Indeed Ikogosi warm springs water project is going, going, going. The question is: Should we fold our arms and allow the project to die?
Suggestions
Firstly, the water bottling project must not be seen as the only project that can be profitably established at Ikogosi. There are many ancillary and profitable industries which are connected with the warm spring and which can be established at Ikogosi. They include therapeutic treatment industries, soft drinks of all types, saline or drip water, battery water, mini-zoo, hot and cold swimming pools, first class hotel with warm water piped into each room for therapeutic treatment and for relaxation for tourists as is done in Spa of Belgium.
Properly managed, Ikogosi Spring Waters can become a world class tourist destination for both Ekiti State and the Federal Government from which both can earn hundreds of millions of dollars a year.
Short term solution
Now that the Ikogosi Spring Water had filed an action in court praying for winding-up. I understand that UACN, the major shareholder is not interested in injecting more funds. To avoid the liquidation of the company, a meeting of the founding fathers of Ekiti State, Obas, present and past governors, legislators at all levels, businessmen, University dons, etc to save the project from dying by injecting more funds into the company by one or group of people, or by outright purchase of the company or by increasing the share capital to accommodate more funds.
Long term solution:
Ikogosi warm spring international tourist centre for the whole of Nigeria
Ikogosi can only become an international tourist destination if necessary infrastructures are put in place. These include constant electricity, modernised and motorable roads, railway and airport. To achieve this lofty goals, the conference of Ekiti indigenes which I have suggested should appeal to the Federal Government particularly the Minister for Tourism to revisit the airport approved by Federal Government for Ekiti on Ijan road and start immediate work on the airport. After all, the other three airports which were approved at the same time namely Gombe, Bayelsa and Asaba have been completed. It is common knowledge that comfortable transportation to any state or country is the key to development whether economic or otherwise. The state and federal government should be advised to construct a modern motorway from the airport to Ikogosi which is about 17miles thereby ensuring comfortable access to Ikogosi both to encourage tourism and also for conveyance of Ikogosi products.
Above all, the conference should appeal to both the state and the federal government to secure the motorway roads from armed robbers and kidnappers as no investor would be attracted to Ikogosi unless he is sure that their investment would be secure. This is a new phenomenon which must be addressed as we plan for economic development of Ekiti State.
Tunde Olofintila is the Head, Corporate Affairs, Afe Babalola University Ado Ekiti, Ondo State.