THE widespread clamour for financial autonomy for State Houses of Assembly and Judiciaries bore fruitful results recently when President Muhammadu Buhari signed a Bill into law granting this request. The new law, which was part of the Bills under the Fourth Constitution Alteration efforts presented to the President by the National Assembly after going through the elaborate due processes, ensures that these estates of the state governments will no longer be hampered by executive control over their finances.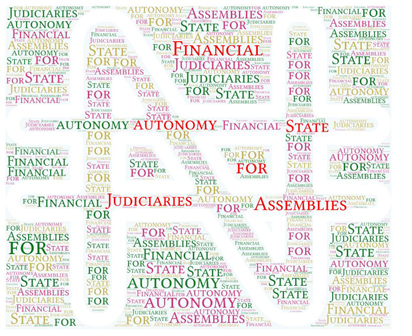 According to Senator Ita Enang, President Buhari's Senior Special Assistant on National Assembly Matters (Senate): "Therefore upon this signature the amounts standing to the credit of the judiciary are to now be paid directly to the judiciary of those states, no more through the governors and no more from the governors and then the amounts standing to the credit of the Houses of Assembly of the respective states are now to be paid directly to the Houses of Assembly of that state for the benefit of the legislators and the management of the States Houses of Assembly".
We wholeheartedly welcome this development because it will greatly deepen democracy at the state levels. The Legislature and the Judiciary at the Federal level had been largely independent of undue executive control, unlike the situation at the state levels. All arms of government at the Federal level have enjoyed a higher level of financial autonomy. Even when the executive tried to tamper with the leadership or other affairs of the other arms they found it an uphill task.
But at the state levels, the Legislature and Judiciary were firmly tied to the apron strings of the Governors who called the shots on crucial issues such as the emergence of the leadership and political comportment of their members. State legislatures were unable to exercise their constitutional powers of independent oversight of the activities of the Executive, especially their financial dealings. They could not investigate issues or sanction errant governors. The Judiciaries were largely crippled, and some governors even had the guts to lock up the courts.
The lack of financial independence largely resulted in the inability of the Legislatures and Judiciaries to curb the massive corruption for which many governors are standing trial and being jailed. Instead, elements in all arms of the state governments became partners in the corruption, and service delivery suffered in most states.
With this financial autonomy, we expect the State Houses of Assembly and Judiciaries to wake up to their constitutional responsibilities. The concept of checks and balances which has been more effective at the Federal level should come into play at the lower levels. The people will be more effectively represented and good governance strengthened.
It is a new milestone for our democracy.