By Chancel Sunday
OBORO – RESIDENTS of Oboro, a coastal community in Burutu Local Government Area of Delta State, have called on the Niger-Delta Development Commission, NDDC, to save them from a looming flood disaster, following alleged abandonment of works by the Commission's contractor after excavating soil at the community's waterfront.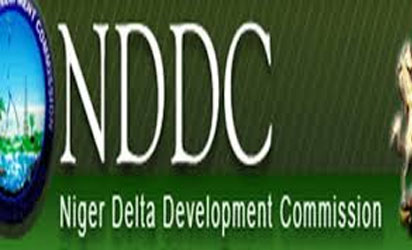 Community chairman, Mr. Ebiarede Opukeme, who spoke to NDV after an emergency meeting of the villagers, urged NDDC to compel the contracting firm handling the community's shore protection project to return to site to avoid untold calamity on the people.
He said: "The community is afraid more than ever before because the dug portion is another threat to us, now that the flood is already here; it will cause more havoc to our community and we do not want more salt added to our injury."
Works first abandoned in 2013, again in 2018
"The contracting firm, Osmoserve Global Limited and consultant, Urban Base Consulting Limited, commenced work on the project in 2013 amidst jubilations in the community, but after carrying out assessment on crops and structures on the project site, which is the community waterfront, and the subsequent sending of working materials to site, including sand, gravel and concrete bars, the contractor was never seen again.
"Barely two weeks ago, the contractor came to site with an excavator and dug part of the waterfront. We were a bit relieved when we saw work has started. However, to our dismay, work stopped and we no longer see him again," Opukeme said.
Our fears
According to him, "The community is afraid more than ever before because the dug portion is another threat to us. The assessment that was carried out in 2013, nothing has been paid to owners until now. The contractor said there is no money from the NDDC to effect payment.
"We are calling on the government of President Muhammadu Buhari to take this issue very seriously because it involves lives in a whole community. As a matter of urgency, we want the contractor back to site, as we do not want to experience any hardship arising from this project.
"More so, the pillars that have already been positioned at the waterfront have been causing a lot of problems to us over the years, especially to our old mothers and fathers, whose canoes often run on top of the pillars and get capsized during the flood period," he added.
His words: "This contract was awarded because of our pains but those in charge of the job seemed to have been playing with our well-being. Henceforth, we will not relent in crying out our pains to the world."