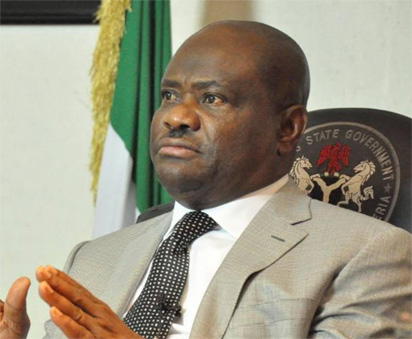 Wike
By Davies Iheamnachor
PORT HAR-COURT— The All Progressives Congress, APC in Rivers State has accused Governor Nyesom Wike of using local government allocations to run the affairs of the state, alleging that  the governor had stashed the allocations of the state in his Abuja residence.
Chairman of APC in the state, Ojukaye Flag-Amachree, also alleged that Wike stashed the federal allocation of the state for three years in his Abuja residence.
Meanwhile, the  state Commissioner of Information and Communications, Mr. Emma Okah, has described the allegations as false, noting that the state allocations were used judiciously for the development of the state.
Okah said: "Even though the allegation is false, but if the governor is using local government allocations to run the state and the people are happy because they can see projects, that it is okay. Wike does not touch the state local government allocations, that I know. When the allocations come, the caretaker committee chairmen receive them.
"Ojukaye does not understand what governance is all about. Governor Wike's house in Abuja is not the Central Bank of Nigeria, CBN and Rivers allocations are not sent there. Ojukaye is only a factional chairman of APC and does not know what he is saying."
Flag-Amachree made the allegation at Ahoada while receiving the lawmaker elected under Peoples Democratic Party,  PDP,  who represents Ahoada East Constituency I, at the state House Assembly, Martins Mannah, into APC with over 3000 of his loyalists.
He said it was because of the huge sums of money hidden in his house that Wike ran to court to get judgment that neither the police nor Economic and Financial Crimes Commission, EFCC should search the apartment.
He vowed that he would mobilise the people of the state to go and retrieve their cash from the said residence.
He said: "Since Wike came into office, he has not spent state allocations on anything. What he has been spending is local government fund. Our state allocations since he came to office are in his Abuja residence, that is why he does not want police or EFCC to search the house."