By  Yemi Olus
In less than two months, the Confederation of African Athletics (CAA) Senior Championships will be upon us, with the competition set to take place from August 1st to 5th at the Delta State capital, Asaba.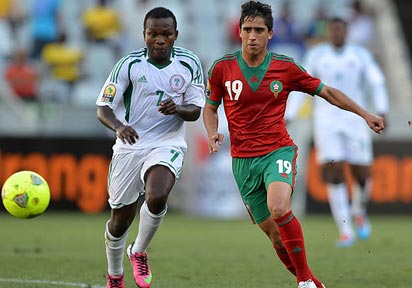 Going by Nigeria's pedigree in the sport over the past decade, many will be expecting the host country to dominate the championships, especially for a country like ours that boasts of huge potential in Track and Field, and has produced some of the continent's finest athletes.
However, a cursory look at the last five editions of the African Championships will indicate that South African has won three editions of the championships in the past decade, starting with that of 2008 held in Addis Ababa.
It is also interesting to note that three countries – South Africa, Nigeria and Kenya, have rotated the Top 3 positions in four of the last five editions of the African Championships, save for 2008 where host country Ethiopia beat Kenya to 3rd position on the medals table, as South Africa dominated with 22 medals, while Nigeria followed with 19 medals.
Kenya hosted the 2010 edition and topped the medals table with 25 medals, while Nigeria and South Africa finished 2nd and 3rd respectively.
At Port Novo 2012, Nigerian set the pace with a total of 21 medals, while Kenya followed with 27 medals, and South Africa placed 3rd with 24 medals. It is instructive to note that Nigeria escaped by whiskers as both Kenya and South Africa won more medals, but Nigeria won one Gold more than Kenya.
At the 2014 African Championships in Marrakech, South Africa topped the table once again to finish ahead of Nigeria and Kenya. And then at the most recent edition of the competition, Durban 2016, host nation South Africa won convincingly, leaving no one in doubt that they meant serious business. They retained their 1st position by amassing a total of 33 medals, while Kenya was a distant 2nd with 24 medals; Nigeria was 3rd with 16 medals.
Nigeria's fiercest rivals on the continent, Kenya and South Africa,both won the African Championships whilst hosting. Going by Nigeria's vast potential, we should be contending with the likes of world powers USA and Jamaica, and it should be taken for granted that we would easily dominate Athletics at continental level. However, nothing could be further from the truth at the moment.
Come August, Nigeria will host the continent, but there is nothing to suggest that we are ready to give our rivals a good fight, even on home soil. The Commonwealth Games which was meant to be used as a sort of preparation for the championships, ended almost two months ago, yet no other competition has been staged to assess the level of preparedness of the host country. The implication is that athletes that didn't make the Commonwealth Games team have not competed for more than two and a half months. How then do we intend to enjoy a decent outing at the championships?
Furthermore, the National Trials that ought to be used to select the Nigerian team for the African Championships has been slated for mid-July, with barely two weeks to the start of the Championships. How much time would we have left to prepare the team for a competition they are hosting, when most countries are getting set to hold their trials in June so as to have some time to fine tune preparations?
Ironically, the entry standards for Asaba 2018 aren't even steep, and are easily achievable. For instance, the qualifying standards in the 100m are 10.44secs for men, and 11.94secs for women. For the 200m, men are supposed to run 21.24secs, and women 24.24secs. Several Nigerian athletes have surpassed the standards across most of the events to be competed in, but then, so have our rivals, and that is why the need for top notch preparation cannot be overemphasized.
Countries like Kenya are planning to come with their 'A' team which will be led by reigning World Champion in the women's 5000m, HellenObiri. Of course many would say that the 5000m is not one of our key events, but this only highlights the level of seriousness a lot of countries are attaching to the championships, especially as it would serve as a selection process for the IAAF Continental Cup holding in Czech Republic in September.
South Africa will also not be left out as they would be hoping to retain their top spot from Durban 2016, and will be banking on the likes of their reigning Commonwealth Games 100m Champion,Akani Simbine, who will be on a quest to finally secure an elusive continental title.
It is pertinent to note that the first time Nigeria hosted the African Championships, was in 1989, in Lagos. We secured a haul of 35 medals to top the table as Algeria came a distant second with only 17 medals. Nigeria put up such a dominant display that we enjoyed a podium sweep in events like the women's 100m, 400m and Long Jump, and secured a 1-2 in the men's 200m, women's 200m and men's Long Jump.
As we get set to host the African Championships almost three decades later, may we not turn out to be mere spectators!