… says Nigeria female artists can amaze the world
By Emmanuel Elebeke
ABUJA- The President of the Female Artists Association of Nigeria, FAAN, Mrs. Chinze Ojobo has lamented the low level of art appreciation in Nigeria.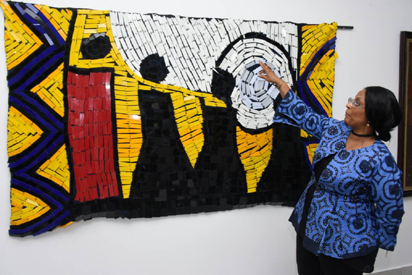 The FAAN President made the lamentation at the weekend during the official opening of her new art exhibition mall called Kulture Kode Art Hub in Wuse II, Abuja.
Mrs. Ojobo noted that artists face a lot of challenges in Nigeria due to the low level of art appreciation, a trend she said is noticeable mostly in the developing countries. But with the Kulture Kode Art Hub, she said it is her desire to see that female artists in Nigeria, become artists of choice in the global art market.
According to her, the Kulture Kode Art Hub will provide a platform for artists to hold art exhibitions in Abuja.
She also said the Art hub is open to artists who want to showcase their talents through group or Solo exhibitions, adding that the idea is to partner with other galleries in Abuja, Lagos and around the world to ensure that only original works are exhibited in their gallery and sold to interested patrons.
''Kulture Kode Art Hub is a vision that I have nurtured for years. After my graduation from the University of Nigeria Nsukka in 1985, with BA in Fine and Applied Arts, I have focused mainly on arts. This has not been without challenges. These challenges had seen me venture into other areas of business, where I have tried other endeavors. Despite these temporary distractions, my heart still remained with arts.
'''Artists face a lot of challenges in Nigeria due to the low level of art appreciation. This trend is noticeable mostly in the developing countries.
''This has been attributed to the economic downturn in recent times. However all hope is not lost as the level of appreciation is beginning to show an upward trajectory. The Lagos axis has witnessed a very robust art market with numerous art exhibitions held in art galleries in that city. My desire to see to the development and appreciation of art not only in Lagos, but also Abuja, the Federal Capital of Nigeria, fueled my decision to set up the Art Hub in Abuja.
''The Hub shall run coaching clinics for artists especially the girl-child, thus creating opportunities for them to hone their skills and develop their potentials. We shall partner with the government, relevant international agencies, for actualizing some of the key areas of the Sustainable Development Goals (SDGs), through mentoring and capacity building for the girl-child and women, to address the issues of poverty reduction and economic empowerment.
''It is my hope that Abuja will soon begin to witness a rise in art events, exhibitions and other activities that will impact on art patronage and appreciation.''
The FAAN president who vowed to spur women artists into realizing their dreams, said: ''Nigerian artists, especially the female artists should not despair or be discouraged as we are beginning to see some silver lining on the horizon. One of our own recently did us proud at the Sotheby's New York Art Auction two days ago. Mrs. Njideka Akunyili Crosby's art work, 'Bush Babies" on acrylic, color pencil on paper was sold at the auction for $3.38 million, approximately N1.23 billion for a single art piece. Two years ago, ''Njideka's art work, titled, 'The Beautiful ones' sold for $3.075 million at Christie's London auction. From the above it is very clear to see that hope is not lost. Art can be a major source of economic emancipation, economic development, job creation and poverty eradication.
''We intend to achieve this by collaborating with government and the private sector to sponsor female artists to major art exhibitions around the world.
''We have among us, female artists whose works can amaze the world, but lack opportunities and exposure. We will work with the Ministry of Foreign Affairs, Ministry of Information and Culture and Ministry of Women Affairs, for government support and encouragement in this regard,'' she said.
In his remarks, the Director Public Affairs of the Nigerian Communications Commission, Mr. Tony Ojobo said the way our society is wired is such that a lot of girls who are talented are afraid that there are no opportunities because of certain kinds of cultural systems that don't provide opportunities for them to excel, but expressed hope that Chinze can be an encouragement for them.
''Her drive is passion for art. We have seen situations where a lot of artist because of low level of appreciation and patronage have actually abandoned art for trading and other things and you wouldn't even know they are artists.
''Over the years she has been thinking of having this kind of Art hub. It is supposed to be a melting pot for female artists especially, this place is for any artist who wants to exhibit.
''The setting is the setting for trainings where people can be trained in different areas, by using the ICT as a tool for marketing.
''The world has become a global village and people can actually have websites and have their paintings with payment platforms and people from any part of the world can order for such work and all you have to do is ship to these places.
''I have seen some works by female artists that are phenomenon, that I know that if they have opportunities to exhibit those works outside this country the sky will be their limit. We believe that through this and also by collaboration with international agencies, multinational and also the private sector there will be opportunity for sponsorship for female artists and also other artists in Nigeria to have exposure internationally at international art showcase,'' he said.
The event witnessed the presence of notable artists from within and across the country as well as captains of industry.