The Super Eagles of Nigeria will face Atletico Madrid in a friendly at the Godswill Akpabio International Stadium on Tuesday, May 22.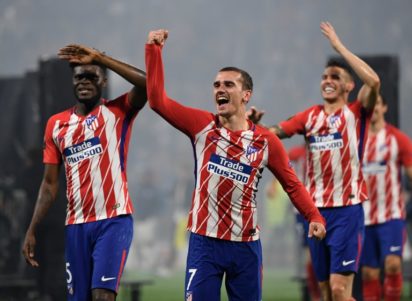 Spanish LaLiga outfit Atletico de Madrid, newly crowned Europa League champions after claiming a dominant 3-0 display over French side Marseille in Lyon on Wednesday night.
Atletico de Madrid will now focus their attentiton on their friendly match in Nigeria, on May 22nd at the Godswill Akpabio International Stadium Uyo against the home-based Nigerian Super Eagles team.
The historic contest will take place thanks to SuperSport, LaLiga's official broadcaster in most African countries, and prominent video entertainment company in Nigeria, MultiChoice, who are also the provider of digital terrestrial television platform GOtv.
They are responsible for bringing the Spanish outfit to Nigeria for the special visit and to play in the maiden edition of the GOtv MAX Cup.
The partnership between the Nigerian Professional Football League and LaLiga has also played a major role in organising the match.
LaLiga President, Javier Tebas responded by saying "Once again, LaLiga's total commitment to fans around the world is evident. This is a historic announcement and we're very happy to share it with our Nigerian fans. Atletico, one of LaLiga's most important clubs, will be in Nigeria and will give the local fans out there the opportunity to enjoy the stars close up. Africa, and Nigeria are very important to LaLiga and are also great fans of Spanish football, which we're very proud of."
LaLiga ambassador, Mutiu Adepoju said: "Multichoice, SuperSport, and GOtv have done well for Nigeria and indeed Nigerian football by bringing Atletico de Madrid here. It shows they are keen on putting Nigeria on the global football map, and they are also providing an opportunity for our players to be noticed by big European clubs."
"The Atletico that will come to play the Eagles will be the first team. They will get ready for the trip to Nigeria immediately after Wednesday night's Europa League final clash with Marseille. Apart from anybody who may be injured or those who are World Cup bound with their countries, you can expect to see the full team with the technical staff led by Diego Simeone" he added.
The fixture will allow Nigerian fans to enjoy an array of some of the stars of the world's best league up close, and watch one of its most iconic clubs, Atletico de Madrid. Atletico have been one of Europe's most consistent teams in recent seasons, breaking Barcelona and Real Madrid's stranglehold on LaLiga by claiming the title in 2013-14. The match is being played under the umbrella of the LaLiga Foundation's LaLiga World Challenge programme, through which friendlies are organised between LaLiga clubs and local teams all over the globe.