By Sola Ogundipe
THE Endometriosis Support Group of Nigeria, ESGN, is collaborating with the German Endometriosis Scientific Research Foundation, GESRF, and Nordica Fertility Centre, Lagos, towards intensifying efforts to enhance the  early diagnosis, treatment and prevention of endometriosis – an abnormal growth of endometrial cells in a location outside of the uterus.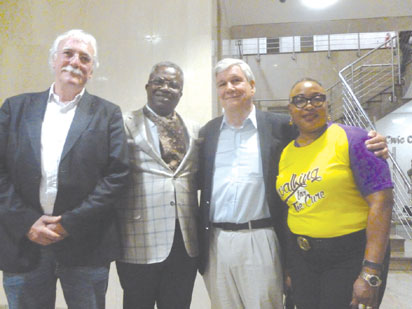 Speaking in Lagos recently on Surgical Management of Endometriosis during this year's Physicians' Rountable organised by the ESGN, with the theme: Current Diagnosis & Management of Endometriosis, Prof. Klaus Neis, a specialist in Obstetrics  & Gynaecology, Founder of European Training Centre (for Gynaecology, Endoscopy & Surgery), said about 20 per cent of all women have endometriosis.
"The problem in African countries is that it is not so effective as outside, because of the cost, laparoscopy is costly.
Speaking on Medical Mangement of Endometriosis, the Vice- Chairman of the Scientific Endometriosis Foundation, Prof. Klaus Buhler, said endometriosis affects many women and causes pain.
"They are not able to have children so we need to make the diagnosis as early as possible and we should also perform laparoscopic surgery earlier than we are doing  currently."
Buhler said in the last 10-20 years, scientists have learned how to perform laparoscopic surgeries and now know that it is the solution in most young women.
"Twenty years ago, I also did not know what was endometriosis, but over time, I got to know. There is need for laparoscopic education and this year,  effort is on to bring all this information on board from the college and that is what we will support and that is our task."
Obstetrician/gynaecologist and Founder, ESGN, Dr Abayomi Ajayi who spoke on Fertility Preservation in Endometriosis, said endometriosis is often misdiagnosed leading to delays in treatment, sometimes for several years. "The surest way to diagnose endometriosis is by laparoscopy and the goals of endometriosis treatment may include pain relief and/or enhancement of fertility.
Ajayi who is also Medical Director, Nordica Fertility Centre, Lagos, Abuja & Asaba, however, said sometimes the condition can resolve on its own. "Menstrual periods should not be painful to the extent it disturbs you from your normal activities, if you have painful menses, see your doctor."
Subscribe for latest Videos