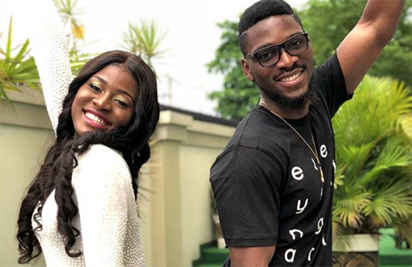 Alex-Tobi
A former BigBrother Naija housemate, Alex Asogwa, on Sunday reacted to a picture of herself now going viral with the caption "sleepy head, I am in love with you''.
The picture showed Asogwa, popularly known as "Alex'' and a male in a position suggesting sexual action.
She has however taken to her official instagram account, @alex_unusual, to express her disatisfaction with the assumed photoshopped post.
Asogwa said she had no picture of such in her phone's photo gallery and claimed her snapchat account where the picture was posted had been hacked.
"I really do not understand what people will gain by making this kind of picture," she said.
Asogwa went further to plead with those who are not her fans and were probably behind the picture.
"Whatever fight you guys are putting up hasn't gotten to this extent," she said.
However, some Nigerians have also gone on to react to her denial statement, saying the man in the picture had on his neck the same necklace her supposed bestfriend Tobi wears.
@sommysunshine said: "I know Tolex fans will say it was photoshoped. Is Tobi's head and necklace also photoshopped?".
@susansmilez said: "This is Alex and Tobi. Only a blind person will believe this hackers story".
@trina_joness said: "Snapchat keeps time and date. It was snapped from her Snapchat camera minutes ago".
Alex and Tobi (Tolex) had repeatedly denied having an affair while in the BigBrother house and even after the reality show, and they have described themselves as "bestfriends''.
This may however not be the end to the whole saga, as the duo's fans will now await Tobi's reaction to the supposed photoshopped picture.(NAN)