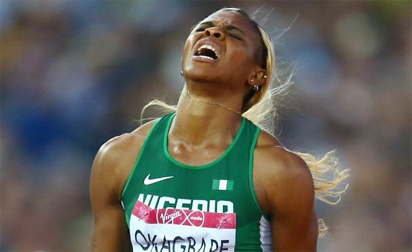 Okagbare
Lagos – Olalekan Soetan, Athletics Federation of Nigeria (AFN) statistician, says Blessing Okagbare-Ighoteguonor will be a force to reckon with during the International Association of Athletics Federations (IAAF) 2018 Diamond League season.
Soetan made this assessment while speaking in reaction to Okagbare-Ighoteguonor's 10.90 secs recorded at the Doha Diamond League.
He said the 100m athlete's start had improved tremendously.
"Her start has improved and she has changed coach. Barring injury, she's a force to be reckoned with this year.
"Though Marie Josee-Talou is hungry than ever to be the champion, the three African women who ran alongside Okagbare-Ighoteguonor will be on her back all season for sure," he said.
NAN reports that Josee-Talou of Cote d'Ivoire returned a time of 10.85 secs at the race, Okagbare-Ighoteguonor came second with 10.90 secs, and Elaine Thompson of Jamaica came third with 10.93 secs.
Murielle Ahoure of Cote d'Ivoire came fourth with a time of 10.96 secs, South Africa's Carina Horn finished fifth with 10.98 secs, Dafne Schippers of Netherlands came sixth with 11.03 secs.
Switzerland's Mujinga Kambundji returned seventh with a time of 11.17 secs, while Jura Levy of Jamaica returned eighth with 11.29 secs at the competition held on Friday in Qatar.
Soetan said Okagbare-Ighoteguonor did not feature in the 100m at the Commonwealth Games because she was just recovering from an injury.
"She was recovering from surgery early this year and she wasn't sure she would be back in good form this soon.
"But she has the African Championships in August in which the three other African sub-11secs sprinters would also feature in, " he said.
NAN reports that the 2018 IAAF Diamond League calendar has Shanghai in China hosting on May 12, Eugene in U.S will host on May 26, while Rome in Italy will host on May 31.
Oslo in Norway will host on June 7, Stockholm in Sweden will host on June 10, Paris will host on June 30, Lausanne will host on July 5, and Rabat to host on July 13.
Monaco will host athletes on July 20, London will host from July 21 to July 22, Birmingham will host on Aug. 18, Zurich will host on Aug. 30, while Brussels will host on Aug. 31. (NAN)