By Chinonso Alozie & Nwabueze Okonkwo
.Okorocha can't be re-admitted into APGA for betraying party—BoT member
.Party denies getting N3bn from Imo gov for readmission
OWERRI—DESPITE feelers that Imo State Governor, Rochas Okorocha may be dumping his party, All Progressives Congress, APC, for the All Progressive Grand Alliance, APGA, top members of APGA in the state have denied knowledge of the governor's moves to rejoin the party, insisting that there is no room for the embattled governor to rejoin his former party.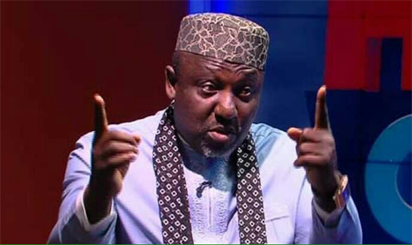 Okorocha said, weekend that he could still have won his second term as governor if he had remained and contested under APGA during the state 2015 governorship poll.
He had decamped from APGA to APC after the 2011 election in which he won as governor of Imo State for his first tenure.
Investigations by Vanguard yesterday, revealed that internal consultations by some members of the Imo State chapter of APGA had begun to smoothen the way for  Okorocha to rejoin the party.
Vanguard gathered that the APGA team had met with some party executives and stakeholders who are believed to have given their consent.
However, the state chairman of APGA, Mr Peter Ezeobi, denied knowledge of such moves, saying he was not aware of plans by Okorocha to rejoin APGA. He insisted that if such plans were true, he would be the first to know, as the party's chairman in the state.
Ezeobi said: "I am the state chairman of APGA, I have not heard anything like that. If he wants to come back, I will be the first to know. I am not aware of such move. For now, there's nothing like that."
He's lost right to rejoin APGA—Onyegucha 
Speaking also, one of the governorship aspirants of APGA, Mr. Uche Onyegucha, said Okorocha had lost his right to rejoin the party.
He likened the Imo governor to a man who could not sustain what he has. He however hinted that only waiver of party's rules would make Okorocha's comeback possible, but retorted: "certainly he cannot get the waver."
Onyegucha who was former Senior Special Adviser, SSA, to Okorocha also said that Okorocha had been rejected by Imo people.
He said: "One, there is no truth to it (Okorocha's moves to rejoin APGA). Two, if some persons are foolish enough to do this, then they should know that Rochas Okorocha has lost his right to rejoin APGA. It can only be waver and I am absolute certain he cannot get the waver. He is like a HIV. He has lost it. Even if he wants to join, it will  not in that same capacity."
Okorocha can't be re-admitted into APGA for betraying party—BoT member  
Also yesterday, a member of Board of Trustees, BOT of APGA Chief Rommy Ezeonwuka said during a chat with newsmen at Oba, Anambra State, that Okorocha did not deserve to come back to the party after betraying the party.
Ezeonwuka who was reacting to speculations making the rounds that Okorocha might return to APGA and had offered a N3 billion gratification to APGA leadership to re-admit him into the party,  insisted that for Okoocha to come back to APGA would be as difficult as the Biblical injunction which states that "it is easier for a camel to pass through the eye of a needle than for a rich man to go to heaven."
He said: "Okorocha is a betrayal. He betrayed APGA and caused irreparable and unforgiveable loss to the party. I doubt if he can fool APGA for a second time.   APGA is not composed of foolish people. You can fool all the people for some time but you can't fool them all the time."