By Emma Una
CALABAR— TWO days of fierce inter communal clash  between the Ikot Offiong people of Odukpani Local Government Area  of Cross River State and their Itu neighbours in Akwa Ibom State has reportedly left about 11 people, mainly women and children, dead.
The perennial clashes between the two communities, which reoccurred on Sunday, went on till Monday night, leaving many houses and other property destroyed with over 2,000 people left homeless.
A resident of the area, Bassey Okokon, told Vanguard that the skirmishes between the two communities started Sunday morning when the Oku-Iboku people launched an attack on Ikot Offiong community while they were in church, giving room for the high number of casualties.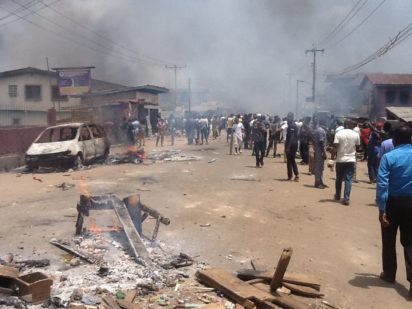 He said: "We were in the church and all of a sudden we heard gunshots and   people started running for safety and many of them were caught by bullets and others were butchered with machetes."
He said the attack went on till late in the night and the following day with no help as there is no police station or security agency in the area.
He said: "The Itu people attacked our community located in the western flank of Cross River waterway that serves as boundary between our two communities and there is no police presence in the area, which is the reason many people were killed."
Chief Stephen Nya, Clan Head of Ikot Offiong, said the Oku-Iboku people launch frequent attacks on his people because of their intention to take the forest reserves in the area, which has oil deposits and that the Ikot Offiong people should pay royalty to them for fishing in the Cross River.
"They attacked us three weeks ago and we repelled them and now they have decided to launch attack while we were in church and have killed our women and children en mmase," Chief Nya stated
Ms Irene Ugbo, Cross River Police Command spokesman, said anti-riot policemen have been sent to the area and hostilities have ceased.