By Sonny Atumah
Many persons have asked what is in a name. A dictionary meaning is that a name is a word, term or phrase by which somebody or something is known and distinguished from other people or things.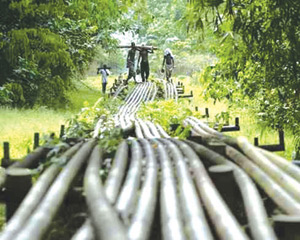 Names signify special and tangible things, either living, as in the case of a person or an animal, or inanimate, as in the case of a place or a concept. People may change their names freely as long as the request is reasonable and does not impinge on the rights of others. Of course, some say, change is always constant in global events.
In the business world a reason for changing name is to break with the past. Doing this means adopting a strategy to remain competitive in the market. An expert says from time to time successful businesses rebrand to create a new identity in the minds of customers, competitors and investors. Rebranding includes a change in the organisation's name, logo, symbol, associated images and more; an effort to reposition in the marketplace and in the eyes of the public.
But what will make a national oil company that has done very well in the last 50 years to change its name? The Norwegian national oil company has commenced its rebranding strategy as it would change its name from Statoil to Equinor. The energy giant is changing its name to one without the word "oil" to reflect a diversifying energy company rather than an oil and gas super major.  Equinor combines "equi" to suggest words like equal, equality and equilibrium. The "nor" signifies the company's Norwegian origin.
Statoil shareholders would vote on the change at the company's annual general meeting scheduled for May 15, 2018. The Norwegian government, as majority shareholder in Statoil (with    67 percent equity), and the five unions that represent Statoil employees support the proposal to rebrand. Since the 2015 Paris Agreement oil and gas majors have been re-evaluating a fossil-fuel-only portfolio and rebranding. The renewal strategy is to cooperate with other countries against climate change.
By 2020, the company will invest a quarter of its research funds in new energy technologies including offshore wind, carbon capture and energy efficiency. Statoil acquired a 40-percent share asset in Brazil solar development project as well as a 50 percent share allowing Statoil to participate in future solar projects. Statoil is a key energy security partner for the UK and pursues a broad range of activities relating to energy production and sales in Britain. Statoil in partnership with Masdar, commenced the operation of the first floating wind farm in the world, the Hywind Scotland. Statoil is a leading supplier of natural gas to the British market, with a market share around 20 percent. It plans to reduce carbon dioxide emissions by 20 percent per barrel by 2030. It also said it would reduce annual emissions from its operations by 3 million metric tons by the same year
The Statoil 2017 outlook envisioned three energy scenarios to reform.The target is a diverse energy mix in fossil fuels and clean energy. The company said it will direct 15 to 20 percent of its total investments to profitable renewable and low-carbon solutions by 2030. The company said it aimed to reduce carbon dioxide emissions by 20 percent per barrel by 2030. It also said it would reduce annual emissions from its operations by 3 million metric tons by the same year. Statoil observers believe it is operating in a world where populist, nationalist, inward-looking and short-term priorities direct policymaking, where climate skepticism runs high and where disorder, conflict and power struggle apply at the expense of cooperation and trust.
Statoil is believed to have reached its goal of reducing CO2 emissions from the Norwegian continental shelf ahead of schedule. It has entered into a CO2 storage partnership with Shell and Total. A November proposal was for the Norwegian Central Bank to divest its US$1 trillion sovereign wealth fund, SWF of oil and gas. That would rid the country of US$35 billion in fossil fuel stocks. As the populist movement continues in Norway, oil and gas production is still playing a significant role.
President and CEO of Statoil, Eldar Sætre said "Statoil has for almost 50 years served us well." "Looking towards the next 50 years, reflecting on the global energy transition and how we are developing as a broad energy company, it has become natural to change our name. The name Equinor captures our heritage and values and what we aim to be in the future." "Equinor is a powerful expression of who we are, where we come from and what we aspire to be."  Eldar Sætre said his company is a values-based company, and equality describes how they want to approach people and the societies where they operate. The Norwegian continental shelf will remain the backbone of our company, and we will use our Norwegian heritage in our positioning as we continue growing internationally within oil, gas and renewable energy."