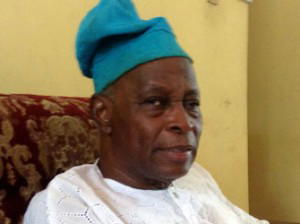 Falae
By Daud Olatunji
ABEOKUTA—NATIONAL Chairman of the Social Democratic Party, SDP, Chief Olu Falae, yesterday, said he regretted supporting President Muhammadu Buhari's  ambition in the 2015 presidential election.
He also passed  a vote of no confidence on  the Buhari administration saying "he has failed."
He said this after a closed-door  meeting with  former President Olusegun Obasanjo  at his Olusegun Obasanjo Presidential Library, in Abeokuta.
Falae, who emerged from the meeting told newsmen he came to visit the former President to chart a  way forward for the country.
His words: "I came here to see the former President Olusegun Obasanjo, who is also my boss when I was permanent Secretary. As my boss, I have come to see him.
"The affairs of Nigeria are far bigger and larger than the political ambition of any person, so, I have come to see the former president on the affairs of Nigeria.
"Once upon a time, between 1977 and 1979, I worked with him when he was military Head of State as a Permanent Secretary and we did many things in those days to advance the cause of Nigeria.
"Now, the way Nigeria is, I think I should come back to see him to see whether we can make any contribution towards the threats and dangers that are facing Nigeria."
On the formation of the Third Force movement headed by the former President, he said: "I am sure that some, if not all right-thinking Nigerians will see the need for all of us to work together to ensure that a good change, beneficial change, and a progressive change happen in 2019.
"We all want a good change from the massive unemployment, from harassment and killings of our people, change from Boko Haram threats and a situation where people are afraid of going to their farms; a change from riots as a result of frustrations, depression to hope and revival of the current economy.
"The Federal Government knows and I know that they have not done well, the primary responsibility of a government is to protect the lives of its citizens but this government is not doing so.
"People are slaughtered and killed every day and any government that cannot stop that has failed. President Buhari is my friend if you can recall that I raised his hand in Adamasingba stadium in Ibadan asking people to vote for him because we thought he would restructure Nigeria.
"But, the truth of the matter is that he has not done well and I am hoping that, as a very honest person and right thinking person, he would look at things and do himself and do us a favour  and say that, in the light of what had happened and looking at his state of health, he is not contesting. That is what I am expecting from him but he has not done so."
"But what I am taking away from here is a confirmation of the fact that, most Nigerians are united in wanting a change for the better and in doing whatever is possible in easing out President Muhammadu Buhari for his own sake and for the sake of Nigerians."