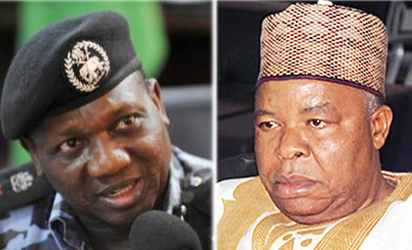 Idris-Mantu
By Abdulwahab Abdulah
Recently, the former Deputy Senate President, Senator Ibrahim Mantu publicly declared that his political party, People's Democratic Party, PDP, engaged in rigging elections to get its candidates, especially the Presidents, to win at the polls. Since he made the statement,which amount to confession, tongues have been wagging, calling for his arrest and prosecution in line with the nation's criminal laws.
Specifically, looking at sections 60-87 of the Evidence Act, it deals with the issues surrounding admissions, confessions and circumstances under which statements made by someone can be admissible or amount to admission under the Evidence Act. Vanguard Law and Human Rights seeks prominent lawyers' opinions on the issue. Excerpts:
Chief Mike Ozekhome, SAN "Senator Ibrahim Mantu publicly confessed to a crime in a bid to discredit his political party that he rode on its shoulders to power, up to being the Deputy Senate President. It was Ibrahim Mantu who spearheaded President Olusegun Obasanjo's failed third term bid. Since he has confessed for committing a crime, the law should take its course and get him prosecuted immediately.
"Looking at it, there are ample provisions in the Evidence Act and Administration of Criminal Justice Act, ACJA, allowing prosecution of a self-confessed criminal. The law should be applied and see him brought to justice."
Mr Babatunde Fasanu, SAN, said, "It is not all that easy the way it looks. In the first instance, this man was not making this statement or confession under caution, which is the foundation of such statement to be admissible in evidence for such criminal case. Yes, he made the statement in public which is recorded, but the purpose of securing conviction by the prosecution with such statement will be defeated. Assuming he is taken to court and he denies or says it was just a mere statement, how would the prosecution secure conviction based on that? It would not be possible. So, my view is that he cannot be successfully prosecuted under these circumstances. What the government can do is to invite him, find out the modalities on how such acts of rigging are carried out. This will enable them to find a way of checkmating future occurrences.
Gbenga Ojo, a senior law lecturer in Lagos State University, LASU, queried: "Charge him for what? How do you sustain the charge? Has he been invited by the police? Has there been investigation aside the ' confession" or say," media confession? Don't forget that the burden on the state is to prove beyond reasonable doubt. Who is the complainant in the case?  INEC or the Police or who?
I do not think that conviction can be secured solely on 'media confession.' What is the evidence that the government has to prosecute him? In what aspect of rigging did he participate as admitted by him? What type of election, the date of the election and the mode of the rigging the prosecution wants to point to in its prosecution of the case? There are lots of holes to be plugged in line with the laws guiding criminal prosecution. So, mere making statement by someone cannot and will not guarantee his conviction. To me, the idea of prosecuting Mantu cannot fly under the law.
Lagos lawyer and rights activist, Mr. Jiti Ogunye stated: "The statement made by former deputy Senate President, Ibrahim Mantu, to the effect that he had, in the past, participated in or facilitated the rigging of elections by his political party, the PDP, is not sufficient to make him liable to immediate criminal prosecution.
We will argue that, having regards to our criminal laws and criminal procedure laws, including the Administration of Criminal Justice Act, and the Evidence Act, 2011, Mantu's statement does not amount to a "voluntarily made confessional statement " that can be used to secure the conviction of a criminal defendant in a criminal prosecution or adjudication.
"Mantu' s  statement was not made in the course of a criminal investigation. In a typical criminal investigation, a criminal suspect is confronted with specific allegations, and he is made to write a statement under caution wherein he could make the confessional statement. If the confessional statement is recorded, same has to be done in satisfaction of the requirements of law, including the presence of the suspect's lawyer.
"And in spite of all these steps, a demurring criminal defendant may still resile from the confessional statement at trial and challenge the voluntariness of the statement.
It can thus be seen that Mantu' s statement may not have any evidential value.
However, the law enforcement agencies may invite him and we will suggest that the police should invite Mantu for questioning.  The INEC, the Police and the DSS that we assume are keen on stamping out electoral malpractice should be interested in "debriefing" Mantu and get useful insights into the "art and science" of electoral malpractice in Nigeria from him.
"If and when they are able to extract sufficient particulars and facts from him , in terms of when, where and how , and who were involved and the money,  if any,  that was involved, a decision can then be taken, in the public interest, to proceed against him. After all, generally, except in certain cases, time does not run against the State in investigation and prosecution of crimes. In conclusion, Mantu' s statement calls for the commencement of a criminal investigation, the public statement, in its own and without more, cannot ground a criminal prosecution, let alone sustain a criminal conviction."
Mr Adetokunbo Mumuni, legal practitioner and executive director of the Socio-Economic Rights and Accountability Project, SERAP, said, "The self confession can be taken up against Senator Ibrahim Mantu. Self confession or confession of any crime is a legitimate way of admission of crime. But it is also clear in law that the prosecution still has to prove its case beyond reasonable doubt as this is the standard all admission or confession will pass through notwithstanding. So, the issue goes beyond his confession that he participated in rigging of elections."
A law lecturer, Mr Wahab  Shittu added his voice and stated: "How do you treat confession bordering on criminality? Do you treat such confession with kid gloves or you apply the law? Senator Mantu on the strength of his voluntary confession of having subverted the people's will should be arraigned immediately and prosecuted. However, this has to follow due process by being invited by the police to state how such riggings were carried out and his roles in such act. The police needs to gather evidence for his prosecution.
Former chairman of the Nigerian Bar Association, NBA Ikeja chapter, Dave Ajetunmobi has this to say: "Mantu's case is a straight case of criminal confession to a crime. For confession to be binding, it must be voluntary. Mantu's confession was voluntary.  Confession must be unequivocal, Mantu's confession was unequivocal.
It must not have been caused by inducement, threat or promise coming from person in authority. Mantu's confession was not due to inducement, threat or promise from person in authority.
Consequently, he has a case to answer. He can be charged for rigging the election according to his confession, that is after he has been invited by the police, his statement taken, or a complaint lodged by a Nigerian, showing that he committed the offence or a petition written to that effect to the police."