By Nwafor Sunday
Barely 24 hours President Muhammadu Buhari, had met with All Progressives Congress (APC), Governors, the President is currently having a meeting with Security Chiefs at the State House, Abuja after cancelling the weekly Federal Executive Council, FEC, meeting today.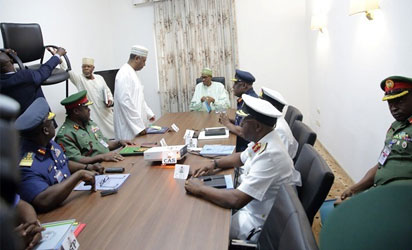 Recall that when APC Governors came out from their closed door meeting with President Buhari, yesterday they sealed their lips and did not reveal their conversation with the President. However, further reports on Wednesday have it that the APC governors had made a u-turn and agreed on congress.
Meanwhile, there has been speculations that incessant killings in some parts of the country by armed bandits, call to arms declaration made by the former Chief of army staff T Y Danjuma last week and other insecurity challenges may be the reason for the meeting. Newsmen equally gathered that President Buhari will be travelling to London for his annual leave next week Monday.
These however, might be the reasons for the meeting.