The Delta House of Assembly on Wednesday passed a vote of confidence on the state governor, Dr Ifeanyi Okowa for "his massive infrastructural development strides'' in the state.
Mr Samuel Marierie, the member representing Ughelli North I Constituency in the Assembly passed the vote of confidence in the motion moved during the plenary in Asaba .
Marierie noted that the infrastructural development initiative of the state government had helped in reducing the challenge of flooding along Okpanam road in Asaba.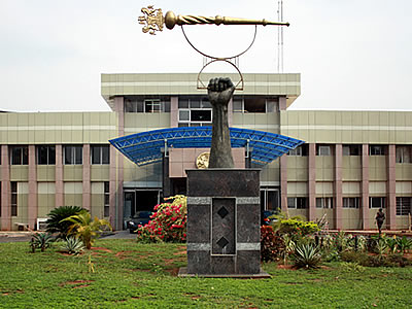 He said the Asaba International Airport, which had gulped billions of naira in the past few years without tangible output, had been transformed.
According to him, from Patani to Oghara, Ughelli to Asaba, the state has been turned to a massive construction site.
"The development strides of Gov. Ifeanyi Okowa will be better appreciated if we realise the poor economic state of the country.
"I won't be able to stop if I am allowed to fully recount the development strides of the governor.
"I urge my colleagues to support this motion. The governor is doing well hence we must give him kudos,'' Marriere said.
Supporting the motion, the Majority Leader of the Assembly, Mr Tim Owhefere, while commending the initiator of the motion, noted that the motion was apt, adding that it could not have been moved at a better time.
Owhefere said: "If I have not seen development in Isoko North, I will not be speaking. The governor took up the development of Ofagbe Technical College without being prompted.
"As I speak, he has also directed that the internal roads be tarred. How he manages to do things leaves me baffled. Okowa is working,'' he said.
Another member representing Oshimili South Constituency in the Assembly, Mr Peter Onwusanya, who listed some ongoing and completed projects in his constituency, stressed the need for the people of the state to endorse Okowa for a second term.
Also, Mr Daniel Mayuku, representing Warri South West constituency described the governor as a very capable leader whose experience had come to play in his viable leadership style.
He commended Okowa for being a governor, who believed in continuity of government in view of the fact that he had vested interest in completing all inherited uncompleted projects in the state.
The lawmaker also stressed that the debt burden of the state had been reduced and the non-payment of workers salary had become a thing of the past.
Mayuku said only a confident and accomplished leader could confidently interface with his people through regular town hall meeting.
The motion, which was unanimously adopted by the assembly through a voice vote by the Speaker, Chief Sheriff Oborevwori, was seconded the majority leader.