THE declaration by President Muhammadu Buhari to run for a second term formally blew the whistle for the beginning of the politicking and campaigns which will culminate in the general elections in 2019. President Buhari set the ball rolling last week Monday, April 9, 2018, at the National Executive Committee, NEC, meeting of the All Progressives Congress, APC, just before he travelled to the UK on official engagements.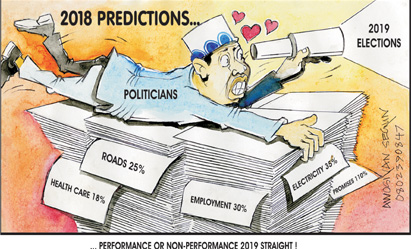 The surprise element was not that President Buhari shrugged off calls by some of his high profile critics not to run again, as it is his constitutional right to bid to exhaust the maximum two terms. The surprise was that it came so early in the pre-election year when governments should still be struggling to complete some of their legacy projects in order to maximise their campaign opportunities.
For one, the Federal budget for this year has not even been passed. The implementation of the 2017 budget was in its infancy when the year ended due to protracted delays. That of this year will be further delayed as members of the Federal Legislature have already embarked on serious political mobilisation back home. The budget and other crucial implementation of projects will likely receive scant attention because most of the ministers will also be campaigning.
There is also the danger of excessive politicisation of issues of governance which normally should be taken more seriously in view of their importance in achieving the vital goals of this administration.  A case in point is the alleged "looters list" which the Federal Government recently unfolded.
A Federal High Court in Lagos had in July 2017 ordered the FG to release the list in line with its pledges to do so. But when it came out, it became controversial, perhaps because it was not comprehensive enough. Both the ruling and opposition parties threw caution to the winds, ignoring the legal implications of labelling accused persons as "looters" when the courts have not pronounced them as such. This unhealthy politicisation has nearly derailed the noble objective of exposing corrupt leaders.
An economy that is still limping painfully out of recession can hardly afford the distractions and intense political infighting that go with high-level campaign politics in our country. There are too many governance issues that should occupy the undivided attention of government. These include the ongoing gale of killings and other security breaches around the country, the jump of Nigeria's population to nearly 200 million at a time the economy is growing at less than one per cent, continued power supply crisis and among others.
The President can mitigate this problem by reshuffling his cabinet and bringing in more technocrats to continue implementing ongoing projects while the core politicians go back to the field.