Says I'm aware of the political gang up
By Chinonso Alozie, Owerri
Imo state governor, Rochas Okorocha, Thursday said his son-in-law, Mr Uche Nwosu, was qualified under the constitution to be the next governor of Imo State.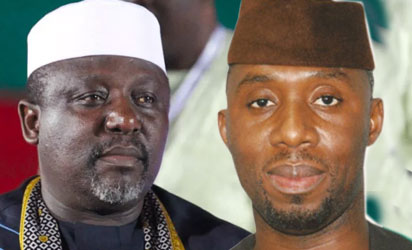 Okorocha stated this while fielding questions from newsmen at the government House, Owerri.
He also revealed he is aware of the political gang up by members of his party both at the state and National level against the endorsement of Nwosu for 2019.
The governor went further to say that, the controversy surrounding pension payment in the state, has been resolved 90 percent.
He claimed that the success was recorded after fraudulent activities were exposed in the system.
As a result of which he said: "The total payment of pension in the state has gone down from N1.4billion to between N600 to N650million."
Okorocha among other things announced that the Vice President, Yemi Osibajo, will visit Imo state to commission, some of his projects which included the newly constructed building for the Imo state, Nigeria Union of Journalists, NUJ, Nigeria labour Congress, NLC, and others.
According to Okorocha, "The problem in Imo state is no longer the issue of zoning. It is now the issue of son-in-law, you can see that the zoning campaign has gone down.
"I know what is paining my political opponent is the issue of son-in-law including Archbishop Obinna. Let me tell you, favour has found the young man. It is God and not me.
"There is no place in the constitution of the Federal Republic of Nigeria that says that an in-law cannot be governor.
"Nwosu has not done anything wrong to contravene the constitution as to say he is not qualified to be the next governor of Imo State. I remember the Tinubu's in Lagos State and the Saraki's in Kwara state."
On the issue of alleged political gang up, against his son-in-law succeeding him in 2019.
Okorocha said: "I am aware that they are using people like Senator Ifeanyi Araraume, Deputy governor, Prince Eze Madumere, Senator Benjamin Uwajumogu to fight me for 2019 and 2023."
"I know those using them. Put them together they can't defeat me. I want to tell you that they will soon break. Who among them will drop his ambition to be governor."