Washington's top diplomat Rex Tillerson said Thursday the United States was "a long way from negotiations" with North Korea, which this week made a shock offer to discuss denuclearisation.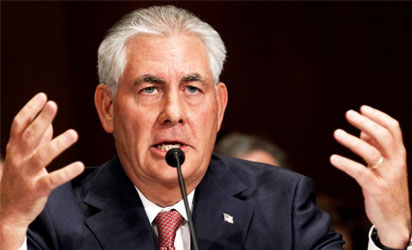 Tillerson, who is in Ethiopia on his first-ever Africa tour, said the signals from Pyongyang may be positive but stressed negotiations with Kim Jong Un's regime were not going to happen soon.
"I think as President Trump has indicated, (there are) potentially positive signals coming from North Korea by way of their intra-Korean dialogue with South Korea," he told journalists.
But "in terms of direct talks… we're a long way from negotiations, we just need to be very clear-eyed and realistic about it," he said.
He said a first step would be "talks about talks" to see if "conditions are right to even begin thinking about negotiations."
Details are still sketchy, but South Korea announced Tuesday that the North had stated there was "no reason" to hold on to its nuclear weapons "if military threats towards the North are cleared and the security of its regime is guaranteed".
The North is open to "frank" talks with the United States on denuclearisation and would suspend missile and nuclear tests while dialogue was under way, the South's national security adviser Chung Eui-yong said after returning from a meeting in Pyongyang with Kim.
President Donald Trump welcomed the offer as "very positive".
However his Director of National Intelligence Dan Coats told Congress he was "quite skeptical" and Vice President Mike Pence said the US position towards North Korea would not change "until we see credible, verifiable, and concrete steps toward denuclearisation."
China on Thursday urged the United States and North Korea to start negotiations as soon as possible, while Japan has warned it could be a ploy to play for time, and urged "concrete" steps from Pyongyang.
AFP