By Joseph Erunke
ABUJA-THE Nigerian Army has said its troops engaging in internal security in the North East on Wednesday, arrested three members of Boko Haram terrorist group in Borno State.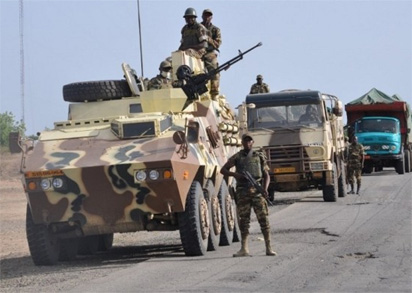 The terrorists, who were nabbed at Ngurore area of the state by the troops of 23 Brigade, Nigerian Army under Operation Operation Dole, according to a statement, by the Nigerian Army through its spokesman, Brigadier General Texas Chukwu, followed information concerned citizens about the presence of the terrorists in the area.
The statement identified the suspects as Adam Yagga, Musa Kamsulum and Abba Djidoum are all from Darajimal in Bama Local Government Area of Borno State.
"One of the suspects, Abba Djidoum, with series of Gunshot wounds on his thigh, confessed to have operated with the Boko Haram terrorists at fringes of Izza, Wudula and Blakule in Bama LOk cal Government Area of Borno State, "the statement said.
It added that the" suspect is undergoing preliminary investigation with 23 Brigade Provost Company. "
" We commend patriotic members of Civilian vigilante (Civilian JTF) for their resilience and continued cooperation with troops, and urge members of the public to emulate their vigilance and security consciousness by reporting any suspicious persons or objects to the nearest military location.
"We wish to remind repentant Boko Haram fighters that the window of opportunity to embrace the Federal Government Amnesty program is still open to them to surrender and lay down their weapons.
" It is also gratifying to report that the troops' morale remains high as they dominate the general area with a robust fighting patrol in continuation with the clearance operations, "it further said.