By Ikechukwu Amaechi
"I am not a politician and politics is one profession I don't want to belong to because if I am a politician, I will not say what I am going to say to you now.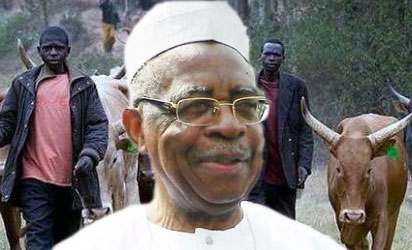 "When I arrived in this arena, I saw rich cultural display and I was amazed at the rich cultural heritage of our people. Taraba is a mini Nigeria with diverse ethnic groups living together peacefully, but the peace in this state is under assault.
"There is an attempt at ethnic cleansing in the state and of course, some rural states in Nigeria. We must resist it. We must stop it. Every one of us must rise up.
"Our Armed Forces are not neutral. They collude with the bandits to kill people, kill Nigerians. The Armed Forces guide their movements; they cover them. If you are depending on the Armed Forces to stop the killings, you will all die one by one.
"This ethnic cleansing must stop in Taraba State and other rural states of Nigeria otherwise Somalia will be a child's play.
"I ask every one of you to be alert and defend your country, defend your territory and defend your state. Defend yourselves because you have no other place to go. God bless our country."
This was the admonition of Lt. General Theophilus Danjuma, former Chief of Army Staff and Defence Minister, at the maiden convocation and 10th anniversary of the Taraba State University, Jalingo, on Saturday, March 24.
To say that no speech has been as impactful in recent times as Danjuma's rebuke of the military and President Muhammadu Buhari's government is to say the obvious. The auspicious moment and pedestal, the solemnity of the occasion and the force of the words used, even the delivery of the speech which seemed to have been extempore, all added to its potency.
To be sure, there is nothing particularly new in what he said. Many Nigerians, including the governor of Benue State, Samuel Ortom, have said that much in recent times but none has resonated as much as Danjuma's, partly because he is no ordinary Nigerian.
Danjuma rarely speaks but when he does, his voice carries a lot of weight. It is even more so when the issue is about the military and national security. As the Igbo say, when the big masquerade is dancing, everyone comes out to watch. Danjuma is a big masquerade. He is dancing now and everyone is coming out to watch.
When the country's former army chief and defence boss pointedly accuses his primary constituency of colluding with bloodthirsty vampires to murder innocent Nigerians, the matter cannot get more serious.
But let me enter a caveat here. As a Nigerian and ardent student of the country's blood-soaked history, I am not enamoured of the antecedents of Danjuma.
As a young officer, he was not only in the loop of the cold-blooded murder of his Supreme Commander, Major-General Johnson Thomas Ummunakwe Aguiyi-Ironsi and the military governor of the defunct Western Region, Col. Adekunle Fajuyi, on that fateful night of July 29, 1966, but also what Akogun Tola Adeniyi called "a murderous clean sweep of the Igbo officers." The pogrom that followed thereafter in the north led to the death of thousands of innocent civilians, mostly of Igbo extraction, who were hacked to death in the most grisly manner ever.
A school of thought believes that the first generation of Nigerian commissioned officers that included Danjuma actually sowed the wind of blood in the 1960s and 70s, the whirlwind of which Nigeria is reaping today. The seeming inability of Nigerians to place any premium on human life remains a legacy of the tendencies Danjuma represents.
More than half a century, there has been no apologies from anyone over the unmitigated spilling of innocent blood of fellow citizens. Instead, national monuments are erected in honour of the masterminds of these crimes against humanity. Those who are still alive not only wear their role(s) in the ugliest chapter of Nigeria's history as a badge of honour but have also reaped bountifully from it. Danjuma is one of those starry-eyed young men who enlisted in the military, shot themselves to power, and amassed immeasurable wealth, with which they have completely dominated the land ever since.
But as I noted recently while responding to former President Olusegun Obasanjo's letter to President Muhammdu Buhari, there are instances where the message is much more important than the messenger. This is one more example of such.
As the Catholic Bishop of Sokoto Diocese, Matthew Kukah, noted recently at the burial of the late Bishop of Kafanchan, Joseph Bagobiri, "Our country is in very serious crisis, the type of which we have never seen before. Deaths, destruction and destitution have become our lot."
So, what Danjuma's outburst has done is to magnify the seriousness of the crisis and the sense of urgency that is required in tackling it.
Some Nigerians who seem ever willing to grant Buhari endless mulligans for his transgressions have accused Danjuma of inciting the people against the military and promoting anarchy.
Some have even called for his arrest and prosecution for what they termed "hate speech."
But is the retired general's call for self-defence really anarchic?
No! If anything, self-preservation, which is the basis for all social contracts, is an inalienable right of every citizen. When a government, by omission or commission, defaults in safeguarding lives, man's survival instinct comes to the rescue.
Besides, the natural right to self-preservation is constitutional. As Itse Sagay, a distinguished legal scholar, professor of law and chairman of the Presidential Advisory Committee Against Corruption (PACAC), said, "It is not an illegal measure for Nigerians to defend themselves."
The former Dean of the Faculty of Law, University of Benin, and Senior Advocate of Nigeria (SAN) said it is even legal.
"If you look at our criminal law, there is the principle of self-defence. If someone attacks you, and you feel endangered, and you defend yourself, and in the process you kill the person, the fact that you were defending yourself is a complete defence to any charge. The right already exists."
The question those who are pillorying Danjuma for advocating self-defence have refused to answer is this: In the absence of effective deterrence and protection from the Nigerian state, what choice does a citizen faced with possible loss of life and limb have? Lie down complacently doing nothing while being massacred?
Speaking the truth
Truth be told, it speaks to the current state of politics in the era of Buhari that statesmen are openly calling for self-defence. The Buhari effect is beginning to take a heavy toll.
Whichever way one perceives the current state of affairs in the country, the president cannot escape the judgment of history because he is already in the crosshairs of history.
If he is not complicit in this macabre dance as he claims and yet does little or nothing to stem it, then that is a problem because he is the president whose defining mandate is the protection of life and property of the citizenry. If on the other hand, he knows what is going on and does little or nothing to stop the carnage, that is even a bigger issue.
If Nigerians could not tolerate President Goodluck Jonathan's incompetence, then they shouldn't tolerate Buhari's. Those who keep using Jonathan's failures as alibi for Buhari tend to forget that this is 2018 leading up to 2019 and not 2015. In 2019, Jonathan will not be on the ballot and, therefore, will not be Buhari's straw man.
But whatever happens, should the ice of fear, confusion and acquiescence that has marked the Buhari era begin to thaw, Nigerians can only thank General Theophilus Yakubu Danjuma.