By Nwafor Sunday
The former Deputy Senate president, Sen. Ibrahim Mantu has on Friday revealed how he contributed to rig elections for his party in the past elections.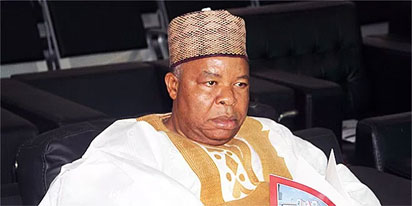 He disclosed this when he played host at the channels television programme 'Hard Copy 'on Friday.
In his words, "Yes! Yes! I did. I am now confessing the truth. But what I mean is that I don't have to go and change election results. But when you provide money, you give money to INEC boys to help you if they see any chance to favour you. You provide money to the security.
"All our elections in the past, I have been a part of it. I have been in this game for forty years. It's not necessarily when I am contesting an election, but when my party sponsors a candidate; I would want that person to win the election.
"Just like what we do, we make provision for INEC, we make provision for security, we make provision for even agents of other political parties so that they will not raise any objection to whatever we are able to get.
"So whether I rig the election or not, by providing those resources…. Financial inducement to the officials, I have rigged the election", he said.
Reports have it that Mantu had in 2017 pronounced himself a born-again politician.
Asked if country can overcome election malpractices coming 2019 election, he said, "I believe we can because you see, if born again people like me refuse to do it and we the players refuse to give, then our election will be good.
"Why I am saying this is because I am tired of been seen as a criminal in the street of the world because I am a Nigerian", he said.
Watch the video clip below: