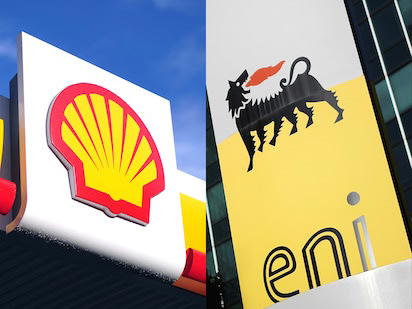 (COMBO) This combination of pictures created on December 20, 2017 shows the logo of a Shell petrol station in central London on January 17, 2014 and the logo of the Italian oil and gas company Eni in San Donato Milanese, near Milan on October 27, 2017. Italian giant Eni and fellow petroleum company Shell will stand trial in Italy over allegations of bribery and corruption in the 2011 purchase of an offshore oil block in Nigeria according to Italian media reports on December 20, 2017. A judge in Milan ordered Eni, Shell and key figures such as Eni chief Claudio Descalzi and his predecessor Paolo Scaroni to stand trial in proceedings to begin March 5. / AFP PHOTO /
By Prince Okafor
Amnesty International has queried oil companies, Shell Petroleum Development Company and Eni trading in Nigeria as Nigeria Agip Oil Company, on the 89 out of the 1,830 oil spills reported by both companies in Nigeria between 2011 and 2018.
In a report titled, "Nigeria: Amnesty activists uncover serious negligence by oil giants Shell and Eni", Amnesty International accused the two firms of serious negligence and irresponsible approach to oil spills, as well as publishing misleading information about oil spills  in the Niger Delta.  
The two companies however dismissed the accusations as false, unacceptable and without merit.
According to Mark Dummett, Business and Human Rights Researcher at Amnesty International, "Shell and Eni claim they are doing everything they can to prevent oil spills but Decoders' research suggests otherwise.
They found that the companies often ignore reports of oil spills for months on end – on one occasion Eni took more than a year to respond. The Niger Delta is one of the most polluted places on earth and it beggars belief that the companies responsible are still displaying this level of negligence,"
"Adding insult to injury is the fact that Shell and Eni seem to be publishing unreliable information about the cause and extent of spills. The people of the Niger Delta have paid the price for Shell and Eni's recklessness for too long. Thanks to Decoders, we're a step closer to bringing them to account."
"Amnesty International is now asking the Nigerian government to re-open investigations into 89 oil spills.
"Since 2011, Shell has reported 1,010 spills, with 110,535 barrels (or 17.5 million litres) lost along the network of pipelines and wells that it operates. Since 2014, Eni has reported 820 spills, with 26,286 barrels or (4.1 million litres) lost.
"Shell and Eni claim that most oil spills in Nigeria are caused by theft and sabotage.
"This claim is contested by communities in the Niger Delta, who stand to lose compensation if the companies attribute spills to third party activity. Previous research by Amnesty International has exposed cases where the companies have wrongly labelled spills.
"For these reasons, Amnesty International asked Decoders to review and describe all the photographs of spills published by Shell and Eni, and to highlight anything that looked unusual.
"They identified at least 89 spills (46 Shell, 43 Eni) about which there are reasonable doubts surrounding the cause provided by the oil companies."
But in a statement sent to Vanguard, Shell Petroleum Development Company of Nigeria Ltd (SPDC) denied the allegations by Amnesty International, reiterating its commitment to swift response to oil spill incidents as much as access and security conditions permit teams to mobilise and deploy to spill sites to investigate, clean up and remediate such areas.
''This is in addition to deploying technology and best practice to make it more difficult for unauthorised persons to break pipelines and steal crude oil from its facilities.''
He said Amnesty International's allegations are false, without merit and fail to recognise the complex environment in which the company operates where security, a sole prerogative of Government, remains a major concern with persisting incidents of criminality, kidnapping, vandalism, threats from self-described militant groups, etc.
 
"SPDC, in collaboration with government regulators, responds swiftly to spill incidents as quickly as it can and cleans up spills from its facilities regardless of the cause," said General Manager, External Relations, Igo Weli.
"We regularly test our emergency spill response procedures and capability to ensure staff and contractors can respond rapidly to an incident. However, response to spills, clean-up and remediation depend on access to the spill site and ultimately on the security of personnel and equipment while work is ongoing."
Similarly, ENI spokeswoman said the rights group's statements "are not correct and, in some cases, not acceptable," adding it had provided a detailed response to Amnesty's allegations.