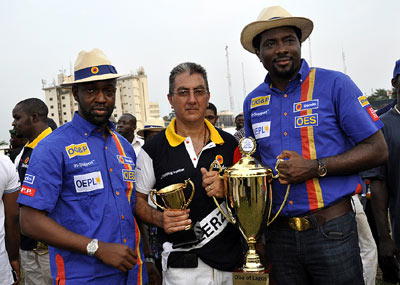 From Left; Mr. Temitayo Ogunbanjo, Head, Operations, Oando Marketing PLC, Mr. Robert Toumajean MD, Rojo Engineering/Captain of the winning polo team and Mr. Meka Olowola, Head, Corporate Communication, Oando PLC during the presentation of the 'Oba of Lagos Cup' to the winning team.
Dr Abdul Zubair, Acting Director-General, Securities and Exchange Commission (SEC) says it will resume forensic audit to probe Oando Plc based on petitions received by the commission from shareholders of the company.
He disclosed this during a news conference on Tuesday in Abuja.
Zubair noted that a forensic audit was initiated in 2017, and preliminary investigation was carried out.
He said that based on some of the findings from preliminary investigation, the commission took steps to preserve the shareholders value and protect the investing public.
This, he said, led to the technical suspension of the shares of Oando Plc and the commencement of a forensic audit.
He, however, said that the audit was suspended because of two lawsuits that were initiated to stop the process.
"The two law suits were filed by Oando Plc and some shareholders of the company to restrain SEC and the Nigerian Stock Exchange (NSE) from effecting a technical suspension on the shares of Oando.
"The lawsuits were also intended to stop SEC from appointing a team of forensic auditors to conduct a forensic audit of the company,'' he said.
Zubair, however, said that Oando Plc. had withdrawn the pending lawsuit against the commission by an application heard and granted by the Court of Appeal on March 5, 2017.
He also said that the application for withdrawal by the shareholders was heard and granted by the Federal High Court on Feb. 21.
According to him, following the dismissal and the striking out of the two suits, SEC would be proceeding with the forensic audit.
"Following the dismissal and striking out of the suits, SEC has duly informed the firm of Deloitte to proceed with the forensic audit.
"The commission is committed to its primary mandate of protecting investors and will take all necessary steps to fulfill that mandate and uphold the integrity of the capital market,'' Zubair added.
He assured all stakeholders that following the removal of the legal impediments, the audit of Oando Plc, would proceed in a transparent and thorough manner.
Zubair, however, did not give a time frame for the completion of the audit, but assured that it would be done in the shortest possible time.
Zubair also assured that the commission would not interfere with the audit so that the outcome would be satisfactory.
NAN