We thank and appreciate all of you who through calls, texts and visits sent across prayerful wishes to our Mummylito, Professor Kate Azuka Omenugha, on her successful completion of tenure as the Hon Commissioner for Education in His Excellency, Governor Willie Maduaburochukwu Obiano's first term.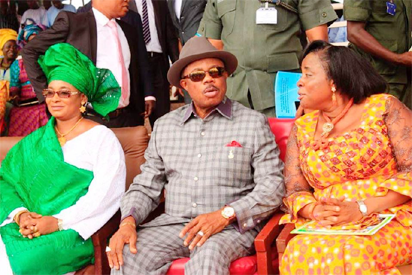 To the Glory of God and for greater services to Ndi Anambra, it pleases our performing Governor to reappoint her as the Honorable Commissioner for Basic Education.
This has received wider commendation and cheery felicitations from all fronts and various affiliations. We remain entirely grateful to His Excellency, Chief Willie Obiano and Wife, Osodieme for this repose of confidence.
Our Spiritual Directors; including Archbishop Valeria M. Okeke, Catholic, Anglican and Pentecostal Bishops and clergies deserve our Gratitude for their ceaseless prayers.
We appreciate our Ndi Igwe and traditional custodians and all of you who have continued to support our Mummylito with your prayers and kind wishes.
Ladies and Gents, I add my voice to yours in saying a very hearty congratulation to our amiable and adorable mum on her appointment as the Honorable Commissioner for Basic Education.
Her appointment by His Excellency is a reward for Hardwork and an eloquent testimony that demonstrates how committed and purpose-driven she conducted your responsibilities in the last term as the Hon Commissioner for Education. The Governor rewards hard work with more work.
God have also been faithful in guiding His Excellency in making this right decision; designed to 'meet the learning needs of all through a value-based and globally competitive education.'
We share in her joy, wish her and other team members an eventful tenure and ask God to continue to uphold them in all their undertakings.
It's a legacy tenure and may the Grace continue to abound for this race. Ekene Dili Chukwu.
Nelson Omenugha, a PhD. student writes from Xi'an Jiaotong-Liverpool Univeristy, China.