By Onozure Dania
GOVERNOR Ifeanyi Okowa of Delta State will on Thursday  perform the official unveiling of Africa for Peace Centre and the groundbreaking ceremony of African Heritage International Academy, at Osubi, Okpe Local Government Area of the state.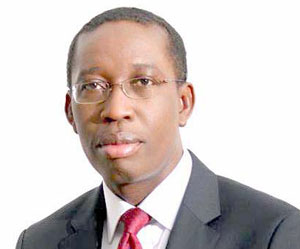 National Coordinator and Founder, Centre for Peace and Environmental Justice, CEPEJ, Mr Sheriff Mulade, who made the disclosure,  yesterday, said Governor Okowa will be the Special Guest of honour  at the event.
He said: "Others being expected to grace the occasion are Prof Al Hassan Cotent, Liberia Ambassador to Nigeria, HRH Yahaya Abubakar, Etsu Nupe and Chairman, Niger State Emirs Council, the Speaker of Delta State House of Assembly, Mr Sheriff Oborevwori, the Orodje of Okpe Kingdom, His Majesty, Orhue 1, Major Gen. Felix Mujakperuo (red), HRM King Alfred Diete Spiff, Chairman of Bayelsa State Traditional Council, members of the Diplomatic Corps  and host of others."
"The office complex which we call The Africa for Peace Centre to be unveiled on Thursday, was specially built to accommodate our civil society group, CEPEJ,  a non-religious and non-political civil society organisation that has become, since inception, the foremost, authentic, credible and well accepted national and international organization for peace and environmental best practices.
"CEPEJ is committed to actively working to promote peace, effective security and environmental institution that collaborate with government, ministries, agencies as well as private organisations, to adopt and implement non-violent means of conflict resolution. CEPEJ is in a hurry to invest in institutions and people."
"We strongly believe that young people should be involved in the process of regional transformation as they are key elements in achieving sustainable development."
On the African Heritage International Academy, Mulade said, "The  idea of the academy is one that came out of the need to provide quality education and offer our promising young ones the opportunity to appreciate and internalise in their young minds the intense values of clean environment and justice. We believe that quality education is the hallmark of the 21st  Century youth. We cannot afford to allow them suffer good educational deprivation. This is because we are aware that when the youth suffer, the future suffers and we cannot prepare the future for the youth but we can only prepare the youth for the future. We shall provide them with a most friendly and an ambient atmosphere for learning."