…Seizes 38 vehicles
 The Ogun Command of Nigeria Customs Service ,NCS, has recorded massive seizures of 38 smuggled vehicles, out of which 18 are means of conveyance of prohibited items, 1, 060 bags of rice, 19 motorcycles (Okada),  158 gallons of vegetable oil (25litres each), 159 cartons of imported poultry products, 150 gallons of petrol (25litres each), five sacks and 30 bales of second hand clothes from 8- 22 of March 2018.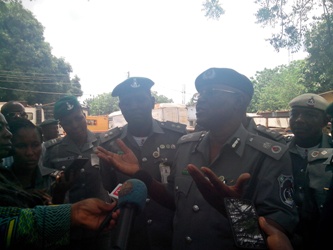 The Command swiftly arrested two suspects in connection with the seized items.
The Customs Area Controller ,CAC, of the Command, Comptroller Sani Madugu, disclosed this while briefing Journalists on numerous seizures recorded by the Command within only two weeks, at Idiroko, the border between Nigeria and Republic of Benin.
He revealed that the seized items are estimated at the total Duty Paid Value ,DPV, of N169.7million.
As the CAC took newsmen round the seizures that occupied almost every part of Customs premises at Idiroko, it was observed that some of the seized vehicles had many bags of rice concealed in them.  A particular vehicle had over 30 bags of rice concealed in all the inner compartments including the engine part.
 Some of the seized vehicles include Toyota Camry, Lexus Jeep, passat, Sienna, Toyota Avensis, BMW among numerous cars seen at Customs premises in Idiroko. It was equally observed that some of the cars had shattered glasses
 Responding to questions on the large number of cars seized within a very short period, the CAC further disclosed that there was a day 10 vehicles were seized at the same time. He mentioned that so far, about 500 vehicles had been sent from Ogun Command to Customs headquarter in Abuja for auction.
 On inter-agency collaboration, he said Ogun Command has a good working synergy with sister agencies in the State, even as he expressed satisfaction on the support the Command enjoys from Ogun State government.
The CAC said, "The Ogun Customs Intelligence Unit , CIU is working tirelessly. We thank the Comptroller General of Customs ,CGC, Ali Hameed, for providing us with necessary logistics  to carry out our operations effectively. It is pertinent to reiterate that the adverse effects of smuggling on a nation is economic strangulation. Therefore, concerted efforts are made to ensure that punitive measures will not be limited to smuggled items, but towards arrest and prosecution of smugglers, to serve as deterrent to others."