… as Obaseki laments loss of about 10,000 youths to illegal migration
By Daud Olatunji,Abeokuta
Former President, Olusegun Obasanjo on Saturday called on World leaders to halt the confusion, lawlessness and human tragedy going on in Libya.
The former President bemoaned the "horrifying" plights of Nigerian migrants still trapped in various prisons and illegal cells in Libya and Europe.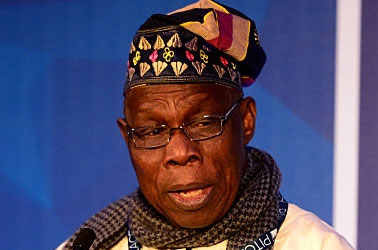 Obasanjo stated this at the 2018 Youth Migration Summit during an interactive session with seven Libyan returnees.
He said he knew all along that the suffering of Nigerians in the North African country of Libya and Italy was bad and pathetic, but added that he did not know it was as "terrifying and horrifying" as narrated by the returnees.
One of the returnees with tear one of the told Obasanjo that he witnessed his sister being raped serially, saw his elder brother drown when the boat ferrying him and 124 other immigrants, capsized in the Mediterranean Sea while another returnee, a woman, also narrated how she was sold severally by traffickers and initiated into a prostitution ring for four years before she was eventually deported.
The summit with the theme: Curbing Youth Irregular Migration, was organised by the Youth Development Centre, an arm of the Olusegun Obasanjo Presidential Library(OOPL), Abeokuta, Ogun State.
Obasanjo said "Libya is a rogue state. Libya is almost a failed state full of criminals and militias. Virtually no one could be held responsible for crimes in Libya.
" Now, there are two governments in Libya, two national Assemblies, two National banks. What is the way forward," he quarried.
He also urged Nigerian leaders and governments at all levels to urgently put measures in place at home to give the youth hope, and prevent them from embarking on hazardous and life – threatening journey abroad.
"The experience is hazardous, unpleasant, tasking, very dangerous, the lessons learnt are the most important. I was in Italy recently and the Nigerian Ambassador there told me that there are 1600 Nigerians in Italian prisons. All of them are youth.
"I wanted to go there but I learnt the process is too long, but the story of the Libyan returnees here is more graphic, what is the solution?
"We have to do what we should at home to prevent you(returnees) from taking the type of risk you took. You thought travelling to Libya would make better, but what have you
got?
"Pains, stress, death, deformity and anguish. Going by the desert or by the Mediterranean is not the solution.
"People don't want to go back to Nigeria. They don't want to go back home, they abuse you and keep asking: Is there light in your country, is there running water? Even as bad as things are here, it is still better here.
"Migration is ordained by God, whether Christian or muslim , migration is ordained by God, God told Abraham to move, leave your home and move to another land. Is that not migration? One of the greatest migration is Israel moving to the Promised Land(Cannan).
"Prophet Mohammed was born in Mecca but he migrated to Medina. Migration by itself is not anything wrong, it has led to civilization and development, we are all migrants but We have to prevent the sort of thing you(the returnees)have gone through.
"We are hearing the story from the people concerned, their story of pains, sorrow and freedom.
"I know many of you(the returnees) are not comfortable with the camera facing you, there is nothing to be ashamed of this time but we believe when people see the video, it will be for correction and instruction so that people who watches it would believe the story and stay away from irregular journey to Libya or Europe.
"I didn't know it is this terrifying and horrifying. I know it is bad but I didn't know that it is this bad," Obasanjo said.
Also speaking ,the Executive Governor of Edo State, Godwin Obaseki, who was the lead speaker, lamented that about 10, 000 indigenes of Edo have lost their lives to illegal migration.
Obaseki who represented by a principal member of the government, Prof. Julius Ihonvhere, said 74% of the over 3000 returnees left the country in 2017.
According to him, research conducted on the returnees showed that the largest percentage of them left owing to the economic hardship in the country at the time.