Lagos – The National Board for Technical Education (NBTE) on Monday said available statistics on young Nigerians enrollment into Technical Colleges showed a reduction in enrollment.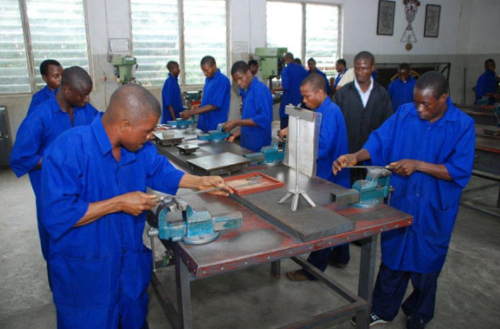 NBTE's Director of Technical Vocational and Skills Development, Mr Abbati Muhammad, made the disclosure at a National Occupational Standard Development and Classification of Dual Vocational Training (DVT) Curricula Workshop in Lagos.
Muhammad, who represented NBTE's Executive Secretary, Dr Adamu Kazuare, at the opening ceremony of the workshop, said there was an increase in the number of Nigerians enrolling to Polytechnics.
"Let me say that in 2015, about 62, 171 young Nigerians enrolled into Nigeria Technical colleges.
"While there is a growing interest of young Nigerians today, enrollment into Technical colleges has continued to grow lower and lower," he said.
The Director said that Nigerians were no longer interested in the colleges due to absence of training facilities, lack of commitment on the part of the providers, as well as ignorance.
Muhammad said some students were not aware of the employment opportunities that would readily await them during and immediately after their studies in the colleges.
He appealed to young Nigerians to avail themselves of the opportunities for them in technical colleges.
Muhammad commended the delegation of German Industry and Commerce in Nigeria for introducing the dual vocational training to Nigeria.
He said that many young Nigerians had so far benefited from it.
The director said the workshop was organised to forge more collaboration between the German Government, NBTE, NACCIMA as well as the Ogun and Lagos Chambers of Commerce and Industry in producing National Occupational Standard.
The National President of NACCIMA, Chief Alaba Lawson, described the workshop as being "historical", because the private sector was prepared to work with other stakeholders in repositioning the nation's artisans.
According to her, Nigeria should not continue to bring in artisans from Lome and Cotonou when there are undeveloped and unutilised artisans in the country.
"We no longer want to be going to places like Lome and Cotonou to be bringing in plumbers, bricklayers and electricians.
"We need to urgently begin to restore our once enviable Technical colleges for prompt, efficient and effective services of artisans," she said.
Mr Stephen Awoyele, the Project Coordinator of the German Dual Vocational Education Partnership with Nigeria (DVT), said the project, which commenced in 2012, was meant to increase the qualification and employability of young Nigerians.
Awoyele expressed satisfaction at the success so far recorded by DVT in the benefiting States.
He said that the German Government was also planning to train trainers for repositioning of Nigeria's hospitality sector.
"We are soon also going to be looking at other sectors like the hospitality sector, where Nigeria currently has a dearth of skills," he said. (NAN)