By Victor Ahiuma-Young
YESTERDAY, Nigeria Labour Congress, NLC, rounded up activities marking its 40 years anniversary celebrations.
The question in minds of many, what does the future holds for NLC in the midst of daunting socio-economical challenges locally and globally.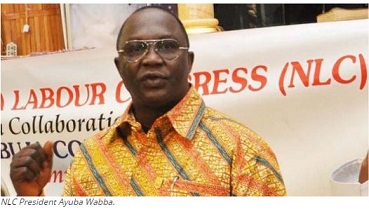 But the President of NLC, Ayuba Wabba seems to have ready answers while  welcoming guests to the Monday's programme as part of the activities marking the anniversary, was very optimistic that NLC would continue to be relevant in the socio-economic and political realities of Nigeria
According to him: We are committed to returning to the founding principles of internal democracy, unity, observance of trade union ethics, and internationalism. We are also committed to strengthening our affiliates; improving the quality of trade union education for union revitalization; increasing the participation of women in the movement; promoting decent work and strengthening the movement through unionization of the informal sector; deepening of    labour-civil society relationship; and promoting labour movement's demand for accountability and good governance.
He noted that "it is necessary to note that there are pertinent issues concerning the future of work that we will all have to collectively address through the change of perceptions, attitude, policies, and practices. Unemployment continues to rise and drive adult men and women (16.1% official figure), especially youth (60%) to desperations and despondency including varying crimes and desperate and suicidal migration adventures across the Sahara Desert and the Mediterranean Sea in the quest for better economic well-being.
Nigeria must be committed to the development of a robust, pragmatic, sustainable national employment policy that works for households and the economy. As organised labour, we shall continue to advocate for this and be more active in migration discourse.
"The weak and low access and coverage of social protection provisions in the country partly explain why inequality and poverty continue to hunt and hurt peoples and their communities, especially those operating and working in the informal economy populated more by women, youth, and low skilled persons. We will continue to work with governments at all levels to find ways and means to upscale and maintain social protection regimes that can effectively contribute to walking millions out of poverty.
The NLC President said: "Education and technology are also twin issues that have implication for the world of work and necessary for accelerating development. Nigerian governments across levels continue to invest abysmally low percentages of their resources in education with the crisis where a huge number of children are out of school. It continues to be the trend that this public good is increasingly in private hands, whose motive is mainly profit-making.
Besides, given globalisation effects, we need to redesign and invest in our education in ways that they will help to proffer solutions to the changing nature of the world of work. We will continue to embrace regulated, responsible and sustainable introduction of technology and automation.
He added that NLC would "continue to resist casualization and the new forms of work that undermine decent work and threaten jobs."