By Peter Duru
MAKURDI—Bothered by poor performance of Exercise Ayem A' Kpatuma or Cat Race, a military spike exercise to check incursions of herdsmen in Benue State, Governor Samuel Ortom has appealed to the Federal Government to upgrade the exercise to a full military operation to effectively check the ongoing killings in the state's rural communities.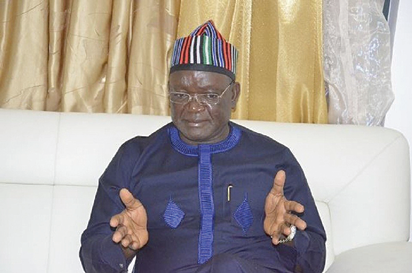 Governor Ortom made the appeal, yesterday, during on-the-spot assessment of four Internally Displaced Persons, IDPs, camps at Abagena in Makurdi, Daudu and Gbajimba in Guma local government area of the state.
Speaking separately at the four camps visited, the governor said: "With the magnitude of crisis we have at hand, given the ongoing killings, despite the ongoing Exercise Ayem A' Kpatuma, we appeal to President Muhammadu Buhari and the Federal Government to convert the exercise to a full military operation to chase out the killer herdsmen from our communities.
"I know that the rules of engagement in an exercise and operation are completely different, that is why we are demanding a full military operation in Benue State to check these killings and to ensure that the displaced persons, who are over 170,000, returned to their homes.
50 communities taken over by herdsmen
"There is so much fear in the people as more than 50 communities in Guma, Logo, Makurdi, Agatu and Gwer West local government areas have been affected by the crisis and we are still counting because IDPs are still pouring into the camps because night attacks are still going on in these communities.
"I was told that about 150 herdsmen have been arrested in Benue by security personnel, some for violating the Open Grazing Prohibition Law and some of them were arrested for the killings in our communities.
 IDPs hit 170,000; 120 new births recorded
In his remarks, Executive Secretary of the State Emergency Management Agency, SEMA, Mr. Emmanuel Shior, lamented that the government and the agency were overwhelmed by the number of the IDPs, which he put at over 170,000.
On new births in the eight camps, Shior said: "120 births were recorded in the eight camps since January so far, but it has not been easy for government to cope with the humanitarian crisis we have at hand at the moment."
Vanguard gathered from health officials in the camps visited that 15 deaths had been recorded in the four camps. The figures indicated that Abagena camp recorded nine deaths, LGEA Primary School Daudu camp recorded one death, same as the UNHCR Shelter Camp Daudu, while four deaths were recorded at the Gbajimba camp.
Responding, a spokesman of the IDPs at the UNHCR Shelter camp, Jacob Iorshelegh, appealed to the Federal Government to encourage security personnel to push out herdsmen from their communities to enable them return to their homes.