By Chris Ochayi
Minister of Power, Works and Housing, Mr. Babatunde Raji Fashola, has warned government agencies in the housing sector that the provision of affordable housing policy of the Muhammadu Buhari administration must be delivered to the people.
Mr. Fashola, who gave the charge at the inauguration of the Governing Boards of the Federal Housing Authority, FHA, and the Federal Mortgage Bank of Nigeria, FMBN, in Abuja, said the agencies must be repositioned in order to deliver service to Nigerians.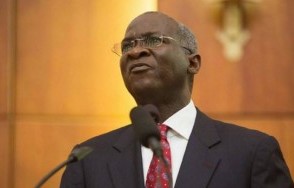 The minister recalled that "Since the FHA and FMBN were set up, they have experienced their fair share of challenges while they have also become well-known brands within the country."
According to him, "This is now your responsibility to reposition these brands and utilise them, by providing the guidance for the managing directors and management teams of FHA and FMBN to enable them deliver service to Nigerians.
"For the avoidance of doubt, let me state that the policy of government is to deliver afordable housing, acceptable to Nigerians and these agencies, whose brands you will now administer are the implementing arms of government for housing delivery (FHA) and housing financing (FMBN).
"The managing directors and their management teams have the executive responsibility for carrying these out, subject to your Boards' oversight, approvals and advice, while the ministry plays a supervisory role.
"Therefore, we expect to see harmony, respect, teamwork and a healthy working co-operation between boards and management. On the part of the ministry, I assure you that we will supervise but we will not interfere. For your information, we are piloting a housing programme and currently constructing in 33 states of Nigeria.
"We do this to validate and test what type of housing design responds to Nigeria's diverse cultural, climatic and religious needs, so as to ascertain what is acceptable and affordable.
"We are at different stages of construction in different states, and we have recommended these designs to FHA, without imposing them.
Our decision is informed by the evidence of previous housing initiatives that people did not take up and empty houses that still abound in almost every state of Nigeria.
"These houses that are not taken and the deficit of housing, suggests to us that the houses not taken are either unacceptable or unaffordable or both. We see housing as a product, and we take the view that before they can be delivered to market, we must know what the people want and what they can afford. When our pilot is fully completed, these answers will become self-evident and this is when we can mass produce.
"There is certainly nothing that stops FHA from undertaking other designs of housing if it can find a market for them, and it can deploy the income to cross-subsidize and make mass housing more affordable. As for the financing side, this is critical to affordability and it is as much the function of FHA in cost management and delivery as it is that of FMBN in delivering mortgages of affordable tenures and costs.
"Since May 2015 to date, FMBN has issued 2,724 mortgages worth N20.237 billion to assist Nigerians buy their own homes under the National Housing Fund NHF"