By OSA AMADI, Arts Editor
I have always wondered why on earth anyone would choose to name one's child "Badmus" when there are names like "Goodluck." But then, those who know better say "Badmus" has nothing to do with the word "bad." Yet, I am not convinced. I won't give that name to my child because, as they say, the Devil is very crafty. According to Kabalarian philosophy, "You can change your life (for good or ruin it) through the power of a balanced name."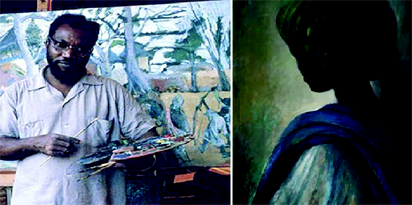 There is, therefore, a lot in a name. A name is a wish or prayer of the giver of the name. And by some queer stroke of fate, the meaning of the name one bears often plays out accordingly in the life of such a person. The name "Enwonwu" literally means "immortal." As we can see, that name has become immortalised!
Oliver Enwonwu, son of the immortal Enwonwu is not just following his father's trails, he is keeping up with the pace. Oliver is also an artist and Director of the popular Omenka Gallery at 24 Ikoyi Crescent Lagos. He shared a deep philosophical viewpoint with Vanguard's Arts & Reviews on the significance of names and how the name 'Enwonwu' has and is still playing out in the life of members of his lineage:
"The name is quite apt to the life and works of my father, Ben Enwonwu. When you think about the fact that a creative person doesn't really die because his works live after him for people to evaluate and speak about, then you will know why the immortality in Enwonwu speaks volume. For example, Tutu became a much talked about masterpiece so many years after the man passed on. You can see how significant the name is especially as it relates to his profession. He (my father) was also a titled chief, an Ozo in Igboland called Odinigwe. These in all are immortality and creativity encompassing. His father's name is Omenka meaning creative person. You can easily see in all that it is prophetic from the first generation. From Omenka to Enwonwu and Odinigwe, you can see how symbolic the names sound, similar to what the Yoruba call oriki.
"The names are very significant in the entire family lineage as a heritage including my own career as an artist, businessman and gallery owner. Enwonwu as a name runs as a generational prophecy and stands as a continuous legacy and heritage. The creativity imbued in the name saturates the entire lineage and I believe it is a continuum even to generations unborn."
Ben Enwonwu (14 July 1921 – 5 February 1994) was born as a twin to Omenka Odigwe Emeka Enwonwu of Umueze-Aroli in Onitsha, Nigeria. Interestingly, his father's name, "Omenka", means "artist." And Omenka ended up becoming an artist – a reputable traditional sculptor who created office stools and decorated doors with religious images.
Between 1934 and 1937, Ben Enwonwu studied Fine Arts under Kenneth C. Murray, an education officer in charge of art education in the colonial civil service and later, director of antiquities, at Government Colleges, Ibadan and Umuahia. At some point, he became Murray's assistant and was rated as the 'most gifted and technically proficient' student among Murray's students.
He attended Goldsmith College, London in 1944, and from 1944 to 1948 continued his studies at Ruskin College, Oxford, England, and at Ashmolean College and Slade School of Fine Arts, Oxford where he graduated with first-class honours.
In 1937, Enwonwu's works were exhibited at the Zwemmer Gallery in London by Murray. He later took postgraduate courses in anthropology and ethnography at the University of California and Louisiana State University, Baton Rouge.
One year after his graduation from the Slade Art School with a diploma in Fine Art and honours in Sculpture, Enwonwu bagged a Master's of Art degree in Social Anthropology at the University College in London. In 1969, he received his Doctorate degree from the Ahmadu Bello University, Zaria.
After working with Murray for many years, Enwonwu was hired as a teacher at the Government College Umuahia, but Murray was not happy that the university authority decided to pay Enwonwu the same salary as seasoned teachers of the school. This created disaffection between Enwonwu and Murray his master. Perhaps, as a result of this rift, Murray resigned from his post at Government College Umuahia and Enwonwu replaced him as art teacher.
Enwonwu also taught art in Mission School, Calabar Province (1940–1941), and Edo College, Benin City (1941–1943). He functioned as art adviser to the Nigerian Government from 1948. From 1950, he toured and lectured in the United States, executing many commissioned works as a freelance artist. Between 1949 and 1954, Ben Enwonwu's works were exhibited in London, Lagos, Milan, New York City, Washington D.C., and Boston.
In 1956, during her visit to Nigeria, Queen Elizabeth II commissioned Enwonwu to sculpt her portrait with bronze, which was unveiled during the 1957 Royal Society of British Artists exhibition in London. In 1959, he became a supervisor at the Information Service Department office in Nigeria; a fellow of Lagos University, Lagos (1966–68); cultural advisor to the Nigeria Government (1968–71); and visiting artist at the Institute of African Studies at Howard University, Washington D.C., in 1971.
From 1971 to 1975, he was appointed the first professor of Fine Arts at the University of Ife, Ile-Ife. He was also art consultant to the International Secretariat and FESTAC 1977.
A portrait of Adetutu Ademiluyi, an Ife Princess, painted by Enwonwu in 1974 got missing in 1975. Tutu was rediscovered in 2017 in a London flat and sold for £1,205,000 in an auction held by Bonhams on 28 February 2018 in London and Lagos simultaneously. The Tutu portrait, one of the three paintings made by Enwonwu, has become a Nigerian national icon, and the name, Enwonwu has taken its place among the immortal names of this world. Who ever said there is nothing to a name?
Notable works
1956 – Bronze sculpture of Queen Elizabeth II
1964 – Sango: the Yoruba god of lightning and thunder
1973 – Tutu
1986 – Risen Christ: was displayed at the University of Ibadan but was torched as a result of political-religious tensions.Awards
1944- Shell Petroleum Scholarship: to study in the United Kingdom
1954- National Merit Award: for academic and intellectual attainment in Nigeria
1958- Commonwealth Certificate in London: for contributions to art by the Royal Institute of Art
1958-Member of the Order of the British Empire
1971-Officer of the National Order of the Republic in Senegal
1980-National Order of Merit in Nigeria: for contributions to art in Nigeria