By Yemi Olus
It's ain't over till it's over! That seems to have been Blessing Okagbare's message to all doubting Thomases when she staged an impressive comeback from an injury-filled 2017 to storm to an African Record of 22.04s in the women's 200m exactly a week ago while competing at the Kittley Invitational in the US.
No one saw it coming, and recording such an incredible feat in her first race of the season, says a lot about Okagbare's form as the countdown to the 2018 Commonwealth Games in Gold Coast begins. Okagbare shattered Mary Onyali's record of 22.07s, and her new mark also serves as the fastest time in the world this year.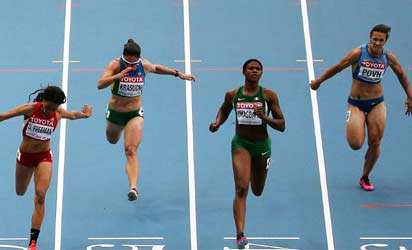 It has been an outstanding week for the University of Texas El Paso (UTEP) alumnus who, during the past week, was named UTEP's best female athlete of all time by 'The Prospector', which has served as the student voice of UTEP since 1915.
For many, Okagbare's return to fitness is coming at the right time. As it stands, she is Nigeria's brightest prospect for a medal at the Commonwealth Games, and it will be great to see her successfully defend either or both of her sprint titles from Glasgow 2014. After the Athletics Federation of Nigeria (AFN) revealed its list of athletes to execute the Commonwealth Games, it was said that Okagbare would only compete in the 4x100m in Gold Coast.
Maybe the Delta State athlete was still trying to keep things on the down-low as she wasn't sure of her form, but now that she has unleashed an African Record in her first race in 2018, it remains to be seen if she will eventually race in any of the individual sprints when the Games commence.
Ironically, my piece last week focused on the need to start grooming the next generation of female sprinters who can build on the successes of Okagbare and the generation before her, as it seemed like the Beijing 2008 Long Jump Silver medallist was approaching the twilight of her career. However, with her recent comeback, one now wonders for how much longer she intends to go on. Is she aiming to leave the stage with at least a continental record to her name, or is her record-breaking feat only a sign of things to come?
The closest anyone came to breaking that record prior to Okagbare's latest feat, was last year when Cote d'Ivoire's Marie Josee Ta Lou clocked a National Record of 22.08s – just 0.01s shy of the record, to win Silver in the 200m at the 2017 World Championships in London. But Onyali breathed a sigh of relief after Okagbare ensured that the record remained in Nigeria.
This is what that the Queen of the track had to say: "My 200m African record went to my little sister. Congrats Ble-Ble Baby! Now we are back on track! Thanks for keeping this in the family kitty while we hunt for the other one! On a mission. Stay tuned".
At this rate, it is safe to assume that Okagbare will also be gunning for the 100m African record which was 'snatched' from her by Cote d'Ivoire's Murielle Ahoure two years ago. In 2013, Okagbare had broken Glory Alozie's continental record of 10.90s in the women's 100m. Alozie had clocked that time in 1998 but Okagbare surpassed it with a time of 10.86s, and then bettered the mark to 10.79s, before it was eclipsed by Ahoure with her mark of 10.78s.
It is interesting to note that the generation of female athletes that preceded Okagbare, still own a good number of continental records. Onyali's former record of 22.07s was set 22-years ago, and the mere fact that that record could stand for that long, is testament to the calibre of athletes Nigeria once had.
Six more African records owned by Nigerian women are still standing: the 400m record of 49.10secs set by Falilat Ogunkoya in 1996; the 100m Hurdles record of 12.44secs set by Glory Alozie in 1998; Chioma Ajunwa's Gold-winning leap of 7.12m in the Long Jump set during Atlanta '96; Vivian Chukwuemeka's record of 18.43m in the Shot put (2003), and the women's 4x100m (Beatrice Utondu, Faith Idehen, Christy Opara-Thompson and Mary Onyali) and 4x400m (Bisi Afolabi, Fatima Yusuf, Charity Okpara and Falilat Ogunkoya) records set at Barcelona '92 and Atlanta '96 respectively.
Maybe Okagbare will take it to seven records when she competes at the Gold Coast Games. She already owns the Commonwealth Games Record of 10.85secs with which she won Gold in the 100m four years ago. Many might consider the lowering of that time a bit ambitious since the season isn't far gone. On the flip side though, it will be wise for Okagbare to make the most of every opportunity that comes her way.