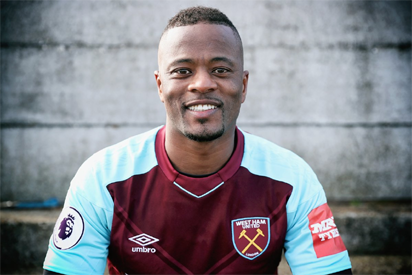 Evra
Patrice Evra has joined West Ham United, with the French defender bringing a host of experience to the Hammers.
Here are 10 things you probably don't know, and need to know, about the Club's latest acquisition!
He LOVES Mondays
If you've not seen Evra's Instagram account yet, then you are in for a real treat!
The defender is one of the most vocal prescenses on social media and often shares hilarious content, such as the above!
As you can see, Evra is a big fan of Mondays!
He comes from a big family
In 2009, Patrice Evra revealed that he came from a rather large family, with the Frenchman boasting 24 siblings.
Speaking in an interview Evra said: "I think it's fair to say my father did not watch a lot of television…"
He was born in Dakar, Senegal. His mother is from Cape Verde and his father is of Guinean descent, and was a diplomat working for the Senegalese Embassy.
He's allergic to eggs
Fair play if you knew this one already! Evra has an egg allergy, something the defender admits he didn't know about until joining Juventus in 2014.
Until then the 36-year-old would eat eggs regularly during his time at Manchester United, something that would make Evra ill.
He told BBC Radio 5 Live: "When I came here they said I'm allergic to eggs and I ate them every day in Manchester. I was vomiting in training at first.
"I went to the hospital and they told me I had been playing with an ulcer and I was lucky it was not bleeding inside."
His impressive trophy haul
Patrice Evra, during his time with Monaco, Manchester United and Juventus, won an incredible 22 trophies.
That included five Premier Leagues, two Serie As, three League Cups, the Champions League, and five Community Shields.
His number of Team of the Year inclusions
Evra is widely regarded as one of Europe's finest left-backs in the 21st century, something which is proven by his inclusion in a number of Team of the Years throughout his career.
The defender has been in three Premier League Team of the Years, between 2006-2010. He was also included in the 2003/04 Ligue 1 Team of the Year, and his excellent performances saw him named in the UEFA Team of the Year and FIFA FIFPro World XI in 2009.
He's not bad with languages
He speaks five languages: French, English, Italian, Spanish and Portuguese. Evra also tried to master Korean so he could better communicate with his former teammate and close friend – Park Ji-Sung.
Former teammates reunited
In moving to West Ham United, Evra will once again play alongside Chicharito, with the duo featuring for Manchester United.
Evra is also reunited with Angelo Ogbonna, with the two defenders playing together at Juventus.
Evra moved to the Italian side in 2014 and starred in the same side as Ogbonna for one season, with the centre-back then signing for the Hammers a year later.
He was originally a midfielder
Evra has made his name in global football as a defender, but it's a little known fact that the Frenchman actually began his professional career in midfield.
It was during his time at Nice, between 2000-2002, that Evra was moved from left-wing to his left-back role. It wasn't a move Evra agreed with, protesting he was a forward minded player.
However, manager Sandro Salvioni persisted, and the rest, as they say, is history.
His international caps
Evra is joint 15th in caps for France, having made 81 appearances for the international side.
The defender's first showing for his nation was in August 2004, in a friendly against Bosnia and Herzegovina.
His longevity
At time of writing, Patrice Evra has made 726 senior club appearances. The first came in 1998 – 20 years ago – with Evra still going strong two decades on.
Culled from whufc.com