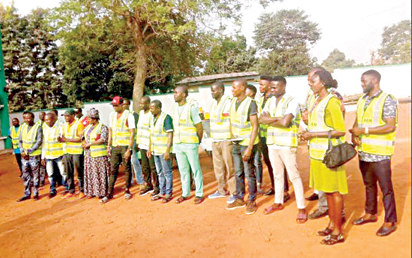 *Nsukka LG environmental marshals being inaugurated
By Chinenyeh Ozor 
As part of efforts to ensure clean and healthy environment, the executive chairman of Nsukka Local Government Council, Chief Patrick Omeje has inaugurated 60 environmental marshals in the area to maintain a healthy environment.
Chief Omeje while inaugurating the marshals charged them to abide strictly by the environmental laws of Enugu State and the bye-laws of the council, warning that they should under no circumstance take laws into their hands.
"The essence of the environmental marshals   is in line with Governor Ifeanyi Ugwuanyi's agenda to maintain healthy and clean environment throughout the entire state," he said.
He said that the environmental marshals would enforce   environmental laws and clean up waterways and gutters to ensure free flow of water and avert blockages and flooding in the rainy season.
The chairman, soon after the inauguration, took shovel and rake along with the marshals and started removing dirt and   waste that litter gutters from Mobil Roundabout to Ugwu Nkwo, describing the exercise as a special environmental day to mark the inauguration of the environmental marshals in the area.
Omeje advised the marshals to take the work very serious as he will not hesitate to sanction anyone found wanting in the discharge of his or her duty.
"Do not harass, ask or collect money from offenders, every thing you do must be in line with the laid-down procedure as you are expected to work as a team with fear the of God, maintain orderliness and conduct yourselves as respected marshals," he told them.
Speaking to journalists shortly after the special sanitation exercise in Nsukka Local Government Area,   the supervisory councillor for environment, Florence Ugwu said that the exercise was in keeping with the tenets of the   state government on environmental laws, adding that the marshals would oversee all the environmental hazards not just in Nsukka town but in all communities of the local government area.
She pointed out out that the marshals have the right to seal any kiosk that poses a threat to the environment and health such as industrial generators  mounted along road sides causing environmental pollution, hazardous to human health.
Miss Ugwu, however, appealed to the general public to co- operate with the marshals by cleaning their environment and observing the state monthly sanitation exercise which holds on the last Saturday of every month from 8am to 10 am.