Rauf Abass, the personal coach of Oluwaseun Olamide, the third-placed Nigerian woman at Saturday's 42km race in Lagos, said on Monday he was not disappointed with her position.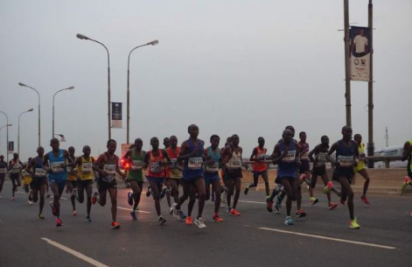 Abass, who specialises in middle and long-distance races, told newsmen in Lagos that Olamide worked very hard to ensure she emerged tops at the competition.
"I feel very happy, because third-place isn't that bad. Just like last year, I was not disappointed in her performance.
She worked very hard for this 2018 Access Bank Lagos City marathon,'' the coach said.
He said all six of his athletes who featured did well, adding that hard work and commitment were the secret to their success.
Newsmen report that in the Nigerian women's category of the race, Deborah Pam came first with a time of 2 hours 59 minutes 03 seconds.
Fadekemi Olude placed second with 3:01:24secs, while Oluwaseun Olamide came third with 3:16:14secs.
Also, in the Nigerian men's category, Iliya Pam returned a time of 2:40:16 secs, while Sharabutu Philibus came second with 2:54:02 secs and Williams Kefas third with 2:58:14 secs.
The Nigerian winners got N3 million, while the second and third-placed Nigerians in each category got N2 million and N1 million respectively.
In the 10km race, Stephen Daniel came first to win a brand new GAC car.
Poku Luka came second to earn N1 million, while Ismaila Sadjo finished third to earn N750,000.
Rose Akuso, Faustina Oguh and Onan Saleh emerged as the top three in the women's category of the event.
NAN