By Johnbosco Agbakwuru
ABUJA – PRESIDENT Muhammadu Buhari is presiding over the weekly Federal Executive Council, FEC, meeting at the Council Chamber, Presidential Villa, Abuja, after being away for about five days on official visits to Kaduna, Katsina and Adamawa.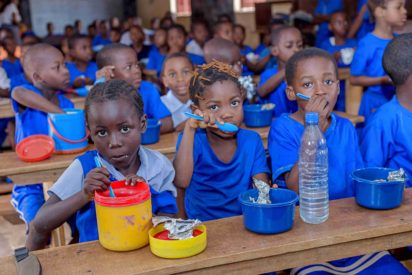 According to Vanguard sources, one of the items that will dominate the agenda in the FEC meeting is the proposed inclusion of High Nutrient Density, HND, Biscuit into the current Nigerian School Feeding Programme to be presented by the Minister of Science and Techology, Dr. Ogbonnaya Onu.
Already, the Director General of the Federal Institute of Industrial Research, Oshodi, FIIRO, Prof. Gloria Elemo and some of the Institute staff are at the State House for the presentation of the product to the FEC.
The HND products is expected to provide at least a third of the desired major macro and micro nutrients requirement stipulated by the World Health Organization, WHO, Food and Nutrition Board.
Additionally, the products will be produced by NASCO Foods limited, Jos with the state-of-the-art processing equipment and vast experience in food processing, food safety and quality for production and supply chain nationwide.